Niles credits defense against John Adams in 17-15 win
Niles vs. Johh Adams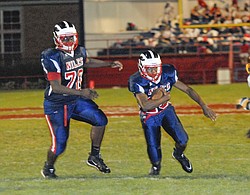 Gallery
Team

| Record | Div. | Conf. |
| --- | --- | --- |
| 2/8 | Div. III | All-American Conference Red Tier |
By Jim Flick
sports@vindy.com
NILES
In a fight to the finish, Niles defeated Cleveland John Adams 17-15 on Friday at Bo Rein Stadium.
Niles led 17-7 after three quarters, but John Adams narrowed the scoring gap to two points with a fourth quarter touchdown when William Doyle snagged a 14-yard touchdown pass from quarterback Tevin Griffin. Martez Stone smashed in for a two-point conversion, which proved to be the Rebels' final points of the game.
After frustrating the Niles offense, the Rebels took possession of the ball in the final minutes. With 58 second remaining in the game, the Rebels put up a fourth-down pass from deep in their end of the field. But junior Stefan Yuhas sealed the victory for the Red Dragons by intercepting the ball at midfield. Niles ran out the final seconds of the game.
Niles' running game was led by junior running back Tommy Duffy, who rushed the ball 14 times for 45 yards.
Senior quarterback Zack Bailey completed 8 of 16 passes for 103 yards, and gained 38 yards rushing in 10 attempts. All of his pass completions came in the first half.
John Adams gained only 49 yards rushing, and the school's leading rusher was senior William Doyle, who gained 17 yards in one attempt while briefly subbing for the Rebels' quarterback. Freshman Tre'von Madison carried the ball six times for the Rebels, gaining 13 yards.
Rebels quarterback Tevin Griffin completed 9 of 19 passes for 131 yards, but also tossed three interceptions. Griffin gained 12 yards on nine rushing attempts.
Despite the victory, Niles coach Brad Yeager said he was disappointed in his team's offense.
"We left too many points on the field. We've got to focus more, we've got to execute, we've got to punch it in."
Yeager was more pleased with the Red Dragons' defense.
"The bottom line is that our defense held strong at the end."
"We're a young team," said John Adams coach Gary Jackson. "They gave their hearts tonight. This is typical of a young team, and we're just learning."