Hughes, Reyes get Campbell rolling, 42-0 over Mineral Ridge
Mineral Ridge vs. Campbell Memorial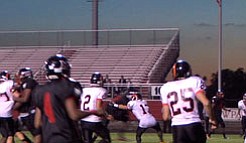 Video
Mineral Ridge at Campbell Memorial highlights
Team

| Record | Div. | Conf. |
| --- | --- | --- |
| 3/7 | Div. V | All-American Conference Blue Tier |
Team

| Record | Div. | Conf. |
| --- | --- | --- |
| 6/4 | Div. VII | Mahoning Valley Athletic Conference |
By Greg Gulas
CAMPBELL
Ja'les Hughes rushed for 131 yards and four touchdowns, and Brandon Reyes's initial start at quarterback produced 10-of-11 completions for 100 yards and a touchdown as Campbell Memorial stopped Mineral Ridge, 42-0, on Friday night at John Knapick Field.
It's been an emotional rollercoaster for the Red Devil football family.
In the spring former player, assistant coach and educator Mickey Soroka suddenly passed away and the football team has dedicate their season in his memory.
They are wearing a "89" logo on their helmet in his honor. That was the number that he wore as a member of the Red Devils from 1977-79.
"You cannot talk about Mickey [Soroka] without getting a tear in your eye. He was a friend to everyone; a leader who was absolutely great for our community.
"He epitomizes what great people are all about," Campbell coach Mickey Sikora said.
The Red Devils got on the board first at the 2:44 mark of the opening period when Hughes scored from 6 yards out; the first of his four scores on the night.
His 3-yard scamper into the endzone at 8:20 of the second stanza, the first of four second period scores increased the Red Devil lead to 14-0.
"Our offensive line did everything that we had practiced in the preseason and just carried out their assignments in tonight's game. On the other hand, our defense was the reason we had such great field position the entire night," Hughes said.
After the Red Devils' Quincy Little recovered a Ram fumble on the Mineral Ridge 24-yard line, it took just three plays for Anthony Rushton to haul in a Reyes 20-yard scoring strike as Campbell's lead went to 21-0.
Another Ram fumble resulted in yet another Red Devils' score, this time when Dom Patton found the end zone from 14 yards as Campbell forged a 28-0 advantage.
When Hughes scored from 20 yards away with just :47 remaining in the opening half, the Red Devils had built a 35-0 haftime lead.
"If the truth be told, I had butterflies my first two series but then was able to settle down," Reyes said. "With Ja'les in the backfield, he makes it so easy for the quarterback because he just does it all. "Our offensive and defensive lines also came up big for us as well."
Hughes rounded out the Red Devils' scoring on the night when he scored his fourth touchdown, this time from 6 yards away at the 7:24 mark of the third period for a 42-0 advantage.
"Campbell Memorial has an experienced coaching staff and a ton of talent to boot. Hughes is one of the best backs in the area and their experience showed tonight," said Mineral Ridge coach Joe Stevens.