Fitch kicks off with a big win, defeats Harding 28-7
Austintown Fitch vs. Warren Harding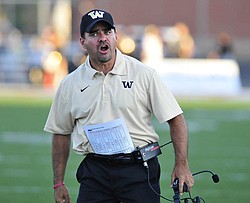 Gallery
Team

| Record | Div. | Conf. |
| --- | --- | --- |
| 6/4 | Div. I | All-American Conference Gold Tier |
Team

| Record | Div. | Conf. |
| --- | --- | --- |
| 2/7 | Div. I | All-American Conference Gold Tier |
By Jon Moffett
WARREN
The start of the football season for Austintown Fitch started out a lot like a boulder rolling downhill.
At first, the Falcons just sort of grinded forward a little bit. But as time went on and they picked up some momentum, they were running without much of a chance of anything stopping them.
Unfortunately, Warren Harding had the unenviable task of trying to do just that.
When the clock wound down, the Falcons were jumping and celebrating a 28-7 opening-night victory at Mollenkopf Stadium as they headed back to the team bus.
Things started out a little sluggish for both sides. The Raiders were able to halt vaunted rushing attack of seniors Will Mahone, one of the top running back recruits in the state, and quarterback Demetrious Davis for most of the first half.
But the Falcons used a no-huddle attack with about a minute before halftime to turn up the tempo. Mahone had runs of 13, 12 and 14 in the Falcons' final drive of the half. He finished the job with a 9-yard run for the first points of the season.
When asked if his team woke up a bit with the fast-paced attack, veteran Fitch coach Phil Annarella laughed.
"Boy, we sure did. I don't know if we, like, woke up or whatever. But we did what we do, and we tried to pick up the tempo offensively," he said. "But that made a big difference to get that score right before the half. And then the momentum seemed to be in our favor."
But it wasn't always that way.
The Raiders owned the first half — sans Mahone's final minute or two — but had nothing to show for it. Five turnovers (three in the first half) sealed the Raiders' fate.
"We had way too many opportunities come up empty," said first-year Harding coach Rick Rios. "We turned the ball over, I think, three or four times in the red zone and you can't do that."
Harding forced a Fitch punt on the opening drive, but its first series ended when Falcosn defensive back Justin Fooks came up with an interception.
The Raiders forced another Falcon punt, but again their own drive ended with a turnover. Junior LeShun Daniels coughed up the ball after a 16-yard run to put the Raiders at the Fitch 12. Davis' twin brother Chris jumped on the ball.
Fitch picked off four Harding passes, with Chris Davis taking one back 32 yards for a touchdown, and had six sacks.
Kyle Betts, who had three sacks, said the goal was to get as much pressure as possible.
"We work on it every day in seven-on-sevens," Betts said. "We knew their quarterback had a strong arm, and their running back ran hard. So we knew we'd have to gang tackle and have all 11 guys going to the ball."
Fitch added a pair of touchdown runs by junior Tyreese Anderson of 23 and two yards. Harding's only points came on a 16-yard run by Daniels with 8:01 remaining in the game.