Defending champ Mike Porter one-upped sibling Scott after one round of Greatest Golfer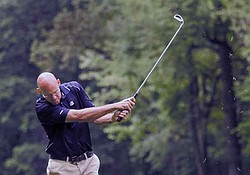 Photo
Rob Venrose competes during the preliminary rounds of the Greatest Golfer Tournament at Mill Creek Golf Course. The 54-hole tournament continues today and Sunday.
Greatest Golfer Day One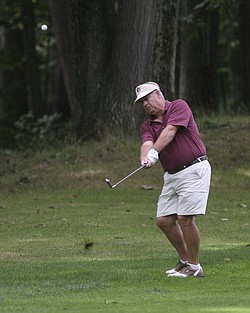 Gallery
By Todd Franko
When Mike Porter won the 2010 Greatest Golfer of the Valley tourney, the chatter was: "Wait till his brother, Scott, plays."
Well, Scott's in the 2011 Greatest, and after Friday's opening round, it's a Porter-Porter affair.
Defending champ Mike rolled in first with a 71 — the day's low score at the time at Mill Creek's par 70 South Course.
Then Scott rolled in 20 minutes later with a 70.
More than 190 golfers in seven divisions teed off Friday for the second annual Greatest tourney hosted by The Vindicator and Farmers National Bank. Half the field tackled Mill Creek, while the other half took on Reserve Run. Today, the tournament moves to Youngstown Country Club and Trumbull Country Club.
While Scott Porter leads the Pete Mollica Memorial Open division with a 70, Doug McMullin (Yankee Run) fired a 74 to lead the 6-10 handicaps. Brian Myers (Links at Firestone Farms), shot 76 to lead the 11-14 handicaps.
Tippecanoe's Ray Duffett shot an 82 to lead the 15-plus handicaps.
The Ladies is led by Katie Rogner, who plays out of Tamer Win and shot 68.
In Seniors, Pine Lakes' Tom Walker leads with a 69.
The SuperSeniors is led by Ralph Roberts of Mill Creek, who posted a 73.
The Porters, who play out of Tippecanoe Country Club, played different tracks Friday to their finishes.
Mike started the defense of his crown with a double bogey on No. 1.
"I grinded back. That was the difference," Mike said. "The course played long due to the wetness. But there was no wind, so it was good."
Scott fired out of the gate and was below par at the turn, but then finished bogey-double bogey-bogey.
"The greens were sticking today," Scott said. "If you kept it in the fairway, you could be aggressive."
The brother-brother showdown had lots of buzz at the tourney, but for the brothers, it's old hat.
"It's been this way all of our lives," said Scott. "[The close competition] keeps us both motivated. The winner amongst us is usually who rolls out of bed the best that day."
For Mike, defending is important knowing the Valley golf community sized up Year 1 as the year his brother didn't play.
"If I can do it again this year, it's a bit of redemption," Mike said.
Behind the Porters in the Open division are Brian Stauffer (East Palestine Country Club), Josh Zarlenga (Youngstown Country Club), Ron Hunter (Tam O'Shanter) and Anthony Conn (Mill Creek) with 72s.
Scoring 73s were Frank Sybelnik (Yankee Run) and Wes Caudill (Youngstown Country Club).
Stauffer carded the Greatest's first hole-in-one on the No. 13 par 3. His 9-iron flew 8 feet past the 150-yard pin, spun back and dropped in.
"I texted my girlfriend and my best friend right away, then shot bogey-bogey on the next two holes," Stauffer said.
Following McMullin in the second division is Robert Venrose's 75.
Chasing Myers in division 3 are Jeff Hapsic and Robert Trucksis with 82s.
In division 4, the next players are Evan Starcher with an 83.
In Ladies, Patty Brant is in second with a 72, Lori Bowden opened with a 74, and 2010 champ Joan Ash has a 75.
Right behind Walker in Seniors are Roger Northall and Joe Posey with 75s.
In SuperSeniors, trailing Roberts are Dominic Vechiarelli with a 74 and defending champ Ed Antonelli with 75.