Abused dog gets TLC, new home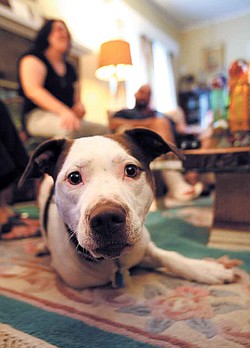 Photo
Billie Jean, a dog who was apparently abandoned and then shot, is living happily with her new owner, Tim Wagner, on the North Side. A group of North Side neighbors got together to help Billie Jean after she was found in June.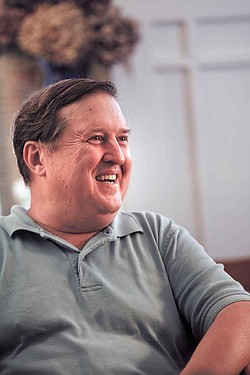 Photo
Tim Wagner, who lives on Coronado Avenue on the North Side, says he's very happy with his new dog.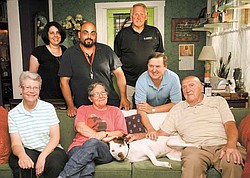 Photo
Billie Jean's best friends, from left standing, are Gretchen Brown, Moris Jadue, Blackwood Pet Food representative Mike McGarry and owner Tim Wagner; and seated from left, Tara McKibben, Tess Tessier and Bert Wagner.
By Jeanne Starmack
Youngstown
In Tim Wagner's cozy living room on Coronado Avenue, a local celebrity was making herself at home under his piano bench.
Billie Jean, a young three-legged hound mix who is pretty well-known now in Wagner's North Side neighborhood, was stretched out and having a snooze during a little break from entertaining visitors.
Tara McKibben and Tess Tessier, who fostered Billie Jean for several weeks after she was found homeless and hurt June 17 at the tennis courts at Crandall Park, were among last week's visitors. So was Gretchen Brown, the woman who took her in that first night and got her to the Animal Care Hospital in Hubbard. So was Moris Jadue, the man who found her and did his best to coax her out of the tennis courts with a bowl of food.
She was scared. She wouldn't come to Jadue, and that's why he called Brown for help. The dog's leg was sticking out at a strange angle, and the vet in Hubbard eventually amputated it. Billie Jean, who was wearing a brown collar with no tags when Jadue found her, had been shot in that leg, the vet determined, estimating that she'd been suffering for three weeks.
Brown, who was unable to foster the dog, searched through social networks for someone who could. McKibben and Tessier said they'd do it — but, they realized, they would be unable to keep her permanently. So they put out a call for a permanent home for her, worrying that if she didn't leave them soon it would traumatize her to uproot her again. She was making herself at home at their house on Goleta Avenue. But she wasn't really at home yet.
It turned out that McKibben and Tessier didn't have to look far to find that permanent home for the dog, whom they'd named after tennis great Billie Jean King.
A previous Vindicator story on her had prompted about $2,000 in donations for her vet care and a waiting list of people who were interested in adopting her.
But it was Wagner, Jadue's next-door neighbor, who ended up with her after Jadue remembered he'd talked previously of wanting to adopt a dog.
Wagner, who lived near the real Billie Jean King when he was in college in Philadelphia and knew her, even decided not to change the dog's name.
"She's in the best place," said Tessier. "This is a good match."
Wagner, an artist and writer who is deaf in one ear and partially deaf in the other, loves the fact that Billie Jean is a barker with a deep, robust voice. She alerts him to visitors he might not hear at the door if he's busy in the kitchen.
She also loves to ride in the car, which is good because she often travels to her other home, a 50-acre farm of woods and fields owned by Bert Wagner, Tim's 92-year-old father, in Grove City, Pa.
Since the Vindicator story appeared in early July, Wagner said, he can't walk Billie Jean without someone in his neighborhood recognizing her and wanting to visit with her.
"She's brought us all together," said Tessier.
"This has helped us to know each other better," Jadue agreed. The group is even planning to have a Billie Jean party later this month, inviting everyone who had a hand in caring for her.
Wagner said he is heartened to see how much people genuinely care about the well-being of animals — included in Billie Jean's circle of visitors last week was Mike McGarry, a representative for a pet-food company that donated money and 60 pounds of premium dog food to her. Ohio Pet Foods in Lisbon asked her down for a visit then made the donation.
Brown said she tried to send a thank-you note to everyone who donated, but she believes she missed some donors who didn't give their names. She wants to make sure everyone knows their donation is appreciated.
Under the piano bench, Billie Jean awoke. She inched her way out and made her way around the room again, visiting all her friends.
This time, she was not only making herself at home. She was at home.