Western Reserve defeats Mathews 52-19
Mathews vs. Western Reserve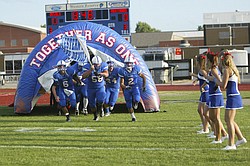 Gallery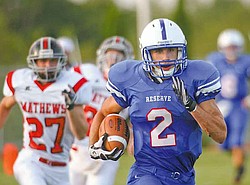 Photo
Western Reserve's Donnie Bolton (2) sprints past Mathews Ryan Mazey (27) on an 85-yard touchdown run in the fi rst quarter of Thursday's season opener at Western Reserve Stadium. Bolton scored three times for the Blue Devils, who dominated the Mustangs, 52-19.
Team

| Record | Div. | Conf. |
| --- | --- | --- |
| 8/3 | Div. VII | Mahoning Valley Athletic Conference |
Team

| Record | Div. | Conf. |
| --- | --- | --- |
| 6/5 | Div. VII | Northeastern Athletic Conference |
By Tom Williams
BERLIN CENTER
The seniors on the Western Reserve High football team have become accustomed to strong starts.
Quarterback Jeff Clegg said the last three Blue Devils team started their seasons 6-0, 7-0 and 8-0.
"It's become a tradition to keep building on that," said running back Donnie Bolton who gained 265 yards on 11 carries in Thursday's 52-19 opening night victory over Mathews.
Midway through the first quarter, the Blue Devils had a 13-0 lead after accumulating 177 yards on their first four carries.
On Western Reserve's first official play from scrimmage, Bolton ran untouched for an 85-yard score. After the Mustangs' first punt, Bolton broke free for an 82-yard score.
"It lifted us a lot," said Bolton of the fast start. "We knew this was going to be a big game and that if we didn't smack them in the mouth really quick that they'd keep on fighting, coming back.
"We just had to get the job done quick and let them know they didn't stand a chance," Bolton said.
Bolton, Clegg and head coach Andrew Hake were quick to praise the offensive line — left tackle Adam Badget, left guard Micah Marra, center Tyler Powell, right guard Bryan Deal and left tackle Aaron Halls — for dominating.
"They are the reason we are who we are," Hake said. "We had the game in the line's hands. They are very physical and they take pride in that.
"We came out fired up, absolutely," Hake said. "We got out of the gates fast.
"Donnie did a tremendous job running today and he's a great back," Hake said. "But great lines can make you look good and that's what they did today."
All but Badget are seniors.
"They call themselves the Four Horsemen," said Clegg of the senior anchors. "Today, they really played like it. They blocked better as a unit than I've ever seen a high school line do before."
Clegg took advantage of the protection to complete 15 of 24 passes for 249 yards and five touchdowns. His favorite targets were Tim Cooper (seven for 118 yards, two touchdowns) and Thomas Benyo (six for 106 yards, two touchdowns).
"Jeff is a field general, he gets us out of bad spots," said Hake who had 20 touchdown passes and two interceptions in 2010. "He puts us in good situations.
I thought our defense played well," Hake said. "We gave them that long run right before the half, but other than that I thought our defense did a great job tonight."
Hake was referring to Craig Hunt's 53-yard touchdown run with six seconds remaining in the second quarter.
The Mustangs rushed 34 times for 129 yards. The Blue Devils ran 30 times for 334 yards.
Ahead 33-6 at halftime, Dan Zilke's blocked punt gave the Blue Devils the ball on the Mathews 2. Clegg hit Benyo running through the back of the end zone for a 34-point lead.
Hunt returned the kickoff 85 yards for the Mustangs' second score. In the fourth quarter, Daniel Fumerola scored on a 15-yard run.