Polish festival is set for Sunday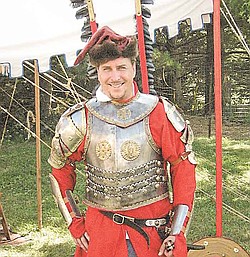 Photo
Mike Ostrowski is a re-enactor who dresses as a Hussar, a Polish cavalry soldier of the 16th century. He will be on hand at the Polish Day festival Sunday at St. Anne Church in Austintown..
By GUY D'ASTOLFO
AUSTINTOWN
The more Mike Ostrowski learned about Polish history, the more impressed he became.
A resident of the Detroit area, Ostrowski is a historical re-enactor who portrays a Hussar — a 16th century Polish mounted soldier. He will be on hand at Polish Youngstown's annual Polish Day festival Sunday at St. Anne Church in Austintown to talk about the role his ancestors played in European history and to lend some Polish flavor.
As a child, Ostrowski always was proud of his nationality, but it wasn't until he began to study Polish history that he really embraced his heritage.
"My grandparents were from Poland, but I didn't think there was too much to being of Polish descent other than polka, pierogi and beer," he said. "But during college, I learned more about its history in World War II. Eventually I started to learn further back, to the 1500s, and then forward to the Solidarity movement [of the 1980s]. It is impressive, such a rich and interesting history."
After college, Ostrowski visited Poland and became enthralled by the modern-day country, its people and culture.
Years later at a Polish festival in Doylestown, Pa., he met a group of re-enactors dressed as Hussars, the lightly armored cavalry soldiers. It piqued his interest, and Ostrowski later would join the group.
Ostrowski will not be accompanied by other re-enactors at Polish Day, because most of them live on the East Coast and New England and could not make it. But he will be dressed in Hussar regalia.
Other highlights of Polish Day will include homemade dinners with a buffet line, baked goods and a deli; a Polish marketplace and cultural village; children's activities; a pierogi eating contest; a folk dance performance by the Krakowiaki Polish Folk Circle; and live music by Ethnic Jazz and Chardon Polka Band.
St. Anne Church is at 4310 Kirk Road.
For more information, go to polishyoungstown.com.