Struthers lineman Mike Shaffer is one tough kid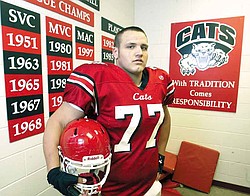 Photo
Team

| Record | Div. | Conf. |
| --- | --- | --- |
| 7/4 | Div. IV | All-American Conference White Tier |
Struthers
Mike Shaffer wouldn't hurt a fly, but a bee is a different story.
First, it should be made clear that he would do so only if the bee were on the shoulder of the interviewer, which it was one hot August afternoon outside Wildcat Stadium.
Let the record show that Shaffer flicked the bee into submission for defensive purposes only, thereby averting possible injury to the unsuspecting interviewer.
Let the record also show that the Struthers senior lineman would similarly dispose of opponents if they endangered, say, his quarterback.
On the other side of the ball, the 6-11/2, 264 two-way tackle is equally vicious.
New head coach Mark Asher likes it that way.
"Mike's a very aggressive player," said Asher, a former East Liverpool coach. "You talk about guys playing until the whistle. That's him. He's rare. He's going to go all the way to the whistle."
The coach said Shaffer stands out on film.
"He's the typical hard-nosed football player who represents this town well. He picks up the level of play of teammates. Sure, he can be a little ornery, but you like that. He's a straight-up, look-you-in-the-eye guy who's going to tell you how he feels. He wears his emotions on his sleeve, which I love, so he fits right in with Struthers Wildcat football."
Shaffer is a two-year letterman who started varsity as a sophomore when the right tackle at the time went down with an injury.
"I had to step in for him and played a big role as a young player on varsity," said Shaffer. "It was pretty rough."
Defensively that season, he subbed at defensive tackle.
As a junior, Shaffer started as a two-way tackle. Ditto for 2011, when, offensively, he'll be the weakside tackle [away from the tight end side], helping protect the quarterback's blind side.
Despite a summer session hip injury, Shaffer expects Tommy Kimbrough to be at the controls when the season opens.
One of Shaffer's goals this year is to repeat as an all-conference player or, better yet, all-state. Making the Ohio North-South All-Star squad or Big 33 team is another individual objective.
Shaffer professes to be the strongest Wildcat this year, but not the fastest. Yet, his footwork speed serves him well.
"I feel like I'm dominant at my positions," the 17-year-old son of Frank and Melissa Sinkovich said.
Shaffer likes Asher's up-tempo approach, offensively.
"It's up-speed," Shaffer said. "He has a lot of different ways of running in plays and calling the offense and breaking huddles. But we've adjusted well and seems like we'll come out firing on all cylinders."
When asked about the chances of a resurrection of Wildcat football of yesteryear, Shaffer tried not to exaggerate.
"The last couple years everyone's been saying, 'It's back, it's back,' but I feel that this year we finally might have it and put it together and not just say it or talk about it the whole year, but actually do it and perform on the field. We've got all the athletes and the key components to be a good team. We just need to put everything together now."
To accomplish that, players have a responsibility.
"It takes the will to win and push to our maximum ability, whether coach is watching or not," Shaffer said. "It takes everyone giving their all every single play and not slacking off or taking a play off here and there."
If those intangibles aren't adopted, positive outcomes may not be realized and the team may let down the community.
"They've been coming out supporting us the last couple years, but we let them down with our record. This year, I feel like they're really supporting us, so we'd better produce."
Mean-Machine Mike's persona may be misunderstood.
"On-field or off-field, people perceive me as kind of a mean guy, but that's just the aggressiveness coming out," Shaffer said. "I've got to get that staff out of me. I don't like to keep it all cooped up inside. If I don't like you I'm going to let you know that. I'm not going to be a phony."
Maybe it's pent-up energy from not playing football sooner.
"As a little kid I was always overweight, so I couldn't play the 95s, 115s or 130s [weight divisions]. I had to wait until the 7th-grade for my opportunity. That's when I started for the 8th-grade team."
Shaffer, who did some wrestling when he attended Pymatuning Valley district schools for a year when he lived with his grandparents, has also shown boxing ability.
Shaffer, who has trained at Jack Loew's South Side gym, won a novice division belt in the KO Drugs high school boxing tournament prior to the end of the 2010-11 school year.
Shaffer finished with this synopsis:
"Everyone talks about how we come out and we're hitters. That's what we're known for — our hitting. But I feel like we've got a lot of speed this year [in the offseason] and we're not a slow team. I feel like we're well-rounded: speed-wise and hitting-wise. I feel like we should be pretty good this year."