Filmmaker uses Mill Creek Park for new movie

Photo
Filmmaker Brian West of the Method 8 Corp. sets up his equipment before shooting at Pioneer Pavilion in Mill Creek MetroParks. His movie "Miracle: The Land of Escobar Part One" is based on a story he authored.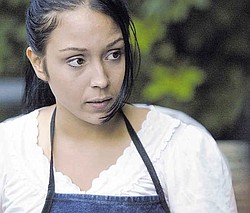 Photo
Sheyra Vazquez, an actress with Method 8 Corp. film company, rehearses before shooting at Pioneer Pavilion in Mill Creek MetroParks. Vazquez is playing Precious Peace, the main character in the film.
By Christine Keeling
Youngstown
Mill Creek MetroParks is the stage for an independent film. Pioneer Pavilion was transformed into an orphanage as Method 8 Corp. began shooting scenes this week for its first movie, "Miracle: The Land of Escobar: Part One."
The film is a prequel to the Christian-themed book "The Land of Escobar and the Journey of a Dreamer" by Youngstown native Brian West, author and owner of Method 8.
"It's fiction but can be related to the real world," said West.
In the plot, Precious Peace realizes she is different from most people who live in the land of Escobar and struggles with the decision of whether to keep her baby. After an angel visits, Precious realizes the importance of her decision and its effect on her land's people.
"Decision-making comes down to knowing you can change the world by the decisions you make," said West.
To find actors, West ran ads in local newspapers.
"There is a lot of talent around town not discovered," West said.
Sheyra Vazquez, 29, said she was excited by the opportunity to play Precious. The dancer and actor grew up in New York and moved to Campbell when she was 10.
"During my childhood," acting "was all I wanted to do," said Vazquez. "Youngstown doesn't really have the opportunities New York has."
She said she relates to Precious' spirituality and honesty.
The story "is different and I hope it will touch a lot of people," said Vazquez.
Her 9-year-old daughter, Mia Santiago, will play an orphan in the film.
One Austintown resident said she jumped at the chance to try something different.
Alicia Bednarik, 22, plays the part of a rebellious girl, Marianne.
"I took the part to experiment with acting, and that's how I am in real life, rebellious," she said.
The cast started working in March and includes Leon Evans, Jennifer Milligan, Dameco Coney, Thomas Smith and Jessica Berg.
West, who also will play a role, said that while he wrote the script he visualized Mill Creek as the far-off land of Escobar.
Clarke Johnson, executive director of Mill Creek MetroParks, said people who want to use the park as a backdrop must fill out an application.
He said department heads usually try to provide people the opportunity to do these types of ventures, but they try to make sure it's in keeping with the park's image.