Builder to help landlocked Vienna community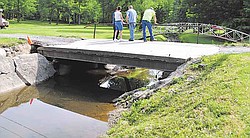 Photo
This private bridge at the end of the Haynie family's driveway shows damage after heavy rains caused it to become loose from its foundation. Work to replace the bridge is set to start Monday.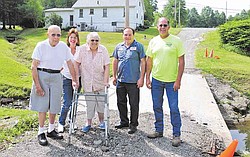 Photo
Haynie family members, from left, Walt, Grace and Betty and Jardine Building employees Bob Kolat and Eugene Macek stand in front of a damaged bridge that needs to be repaired. The bridge is the only access the Haynie family has to Niles-Vienna Road from their homes.
Staff report
VIENNA
Grace Haynie had all but given up hope that she would be able to find someone who would help her parents and relatives, when a chance encounter with a customer changed her luck.
Eleven of Haynie's relatives live in a neighborhood of seven homes in Vienna Township that is landlocked by Upper Little Squaw Creek. Rains and flooding have washed away most of a small, private bridge that provides the only access the families have to Niles-Vienna Road.
Although a family member tried to complete a temporary fix by reinforcing the structure with metal plates, a concrete-filled metal barrel used to support the bridge collapsed, creating a dangerous and unstable tilt.
The bridge is unsafe for cars and only passable on foot.
The family never anticipated, when it was built in the early 1960s, that the span would end up so deteriorated.
"This is my family; none of them are under the age of 80, and all of them have medical problems," said Haynie, who lives in Canfield.
Haynie's father, Walter, who is recovering from bypass surgery, needs visiting nurses who often had to park their cars at the bridge's entrance and walk to the homes.
When her father needed to go to the hospital, he had to be carried from his home by six men. When her mother fell, Vienna emergency personnel had to leave their vehicles in the street and run across the bridge with a gurney to get her.
Limited financial means compound their age and medical conditions, and because the bridge is on private property, no public funds are available to repair it.
Haynie had been looking for help for several months, without luck.
"I had given up hope that there was anybody nice out there."
That was until Bob Kolat of Brookfield came to the Bob Evans restaurant on Belmont Avenue for his usual order of sausage, biscuits and gravy.
"She saw my shirt and its logo and sat down and talked to us," said Kolat.
Kolat is the chief designer for Jardine Builders and Septic System in Niles.
He said after Haynie told him and his co-worker, Eugene Macek, about the family's problem, they went to see the bridge.
"If you've been to Niagara Falls, you've seen how the flow of water creates a circle like a tornado," says Kolat, referring to the backflow of water that is created by the Squaw Creek's twists and turns as it winds its way under the bridge.
"This is the same effect — on a smaller scale — that's washed out the soil under this bridge."
County vehicles — firetrucks, ambulances, and garbage trucks — will not cross the bridge. The families must haul their garbage bins up a steep incline to the main road, and in the event of an emergency, the families will have to rely on emergency helicopters.
"I don't know what the fire department would do if there was a fire," said Kolat. "They are concerned with crossing because it would be difficult to get a truck safely across."
Richard Brannon, Vienna Township fire chief, said with all their heavy equipment, there's no way his staff could cross that bridge. They have devised alternative plans to reach the people should a problem arise.
Haynie said she was so surprised when Kolat called the following Monday and said he could help.
"He said it would be $16,000 for materials," said Haynie. "My family said, 'We can do that.'"
The family raised the money, and Kolat amassed a group of people willing to donate time and labor in an effort to keep costs minimal. He said if more people or companies contribute materials, the savings will go to the families. He estimates the cost to fix the bridge would normally be between $50,000 and $60,000.
"At Jardine Builders, we like to help people," says Kolat. "We know there are elderly families affected by this. We're based in the Valley, and this is a good chance to give back."
Haynie said that she believed Kolat and Macek were "heaven sent" and that her dad was ecstatic the bridge was going to be fixed.
The project is scheduled to start Monday.