Niles woman wins Airstream in online contest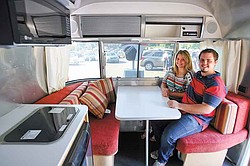 The Vindicator ( Youngstown)

Photo
Jessica Clifford of Niles and her fiance, Corey Diles of Braceville, are seen in Clifford's new Airstream Trailer. She won it in a contest sponsored by Little Debbie Foods.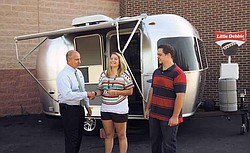 Photo
Rick Monaco, left, regional sales manager for Little Debbie Foods, hands the keys to the Airstream Trailer in the background to Jessica Clifford of Niles, who won it in a contest sponsored by the snack food company. At right during Tuesday's ceremony was Clifford's fiance, Cory Diles of Braceville.
By Jordan Cohen
NILES
When Jessica Clifford, 22, clicked "like" on a Facebook page several months ago, she was hoping to win a small daily prize from the page sponsor, snack-cake manufacturer Little Debbie. Clifford, a Niles resident, didn't win that day and said she forgot about the contest until she received a phone call several weeks ago.
"They called on a weekend and said I won the grand prize, an Airstream Trailer, and I didn't believe it," Clifford said. "I called the following Monday; they told me it was true. I was shocked."
The 2011 Airstream Sport Trailer, which is 16 feet long, contains several amenities, including a large bed, satellite dish, radio and television, a kitchen with a dining booth and microwave. It is valued in excess of $34,000, according to Miranda Jarrell, a marketing representative.
"Jessica was chosen at random from more than 1.7 million entries," Jarrell said, adding that a promotion company managed the contest and used a computer program that picked Clifford's name and other lesser prize winners from the entries' database.
"This is just amazing and awesome," Clifford said after viewing the inside of the Airstream, which was presented to her outside Macali's Giant Eagle on Vienna Avenue on Tuesday.
Jarrell said Clifford is one of only 100 owners of this type of Airstream trailer.
The vehicle was the signature piece of the snack company's "Million Smile Mission" contest and traveled nearly 13,000 miles from October 2010 till last June. The contest was conducted online only, and entrants were asked to submit a photo of their smiles, which would be combined into a mosaic. They could also do what Clifford did and simply click "like" on Facebook.
"We were hoping to get 1 million smiles, and we got more than that," Jarrell said.
"I didn't enter a photo of me smiling," Clifford admitted, but she had plenty of smiles for photographers as she stood by the trailer.
Clifford is a business-management student at Kent State University and expects to graduate next year. She was accompanied by her fianc , Cory Diles, 21, whom she plans to marry next July. Clifford said she is marketing director for Diles Market of Leavittsburg, which is owned by her fianc 's parents.
"Now I'm ready to go camping," Clifford said, "probably this weekend."