Boy accused of killing dad's fiancee to be tried as juvenile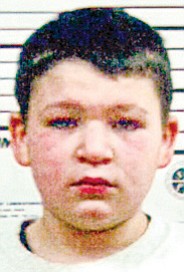 Photo
NEW CASTLE, Pa.
A boy who was 11 when police say he murdered his father's pregnant girlfriend will be tried as a juvenile and not as an adult.
Jordan Brown's homicide case has been transferred to juvenile court on an order issued Tuesday by Lawrence County Common Pleas Court Judge Dominick Motto. The decision means that Jordan no longer faces the possibility of life in prison without parole, as he would if tried as an adult. In juvenile court, he faces incarceration only until he reaches age 21.
Jordan, now 14, was an 11-year-old fifth-grader when he was accused of the shotgun killing of his father's fianc e, Kenzie Houk, and her unborn son in February 2009. His case had drawn worldwide interest and criticism because he could have been the youngest person in the nation and possibly the world to be sentenced to life in prison without parole.
Atty. David Acker, who is defending Jordan along with Atty. Dennis Elisco, said he was "much relieved and thankful" for Judge Motto's decision. He also thanked the Juvenile Law Center in Philadelphia, which filed an appellate brief on Jordan's behalf as well as Amnesty International, which supported Jordan's removal from the adult-criminal system and generated letters of support from all over the world.
Acker said Tuesday's decision means Jordan's case will be tried in a juvenile court hearing, which will be closed to the public. He said because of the seriousness of the case, the disposition will be made public, though most juvenile-case decisions are not. He expects the hearing to be scheduled "relatively quickly."
In the meantime, Jordan remains in the Edmund L. Thomas Adolescent Detention Center in Erie where he has been since just after the murder.
After a March 2010 hearing, Motto had ruled that Jordan be tried as an adult. But he was overruled a year later by Pennsylvania Superior Court which took issue with Judge Motto's reliance on Philadelphia psychologist and lawyer Dr. John O'Brien's assertion that Jordan's failure to admit guilt meant he was not amenable to rehabilitation in the juvenile system. The Superior Court said this violated Jordan's right against self- incrimination.
Judge Motto was then required to rule on the court record excluding Dr. O'Brien's testimony. At a hearing to this effect last month, Deputy State Atty. General Anthony Krastek Jr., who was prosecuting the case, said he would not bring in another psychologist but would instead rest on the record.
In his decision, Judge Motto noted that Houk was "totally defenseless" at the time she was killed by a shotgun blast to the back of her head and that there "is no indication of any provocation by the victim that led to her killing." He said there was a lack of evidence that anyone else entered the home at the time of the killing, as well as gunshot residue on Jordan's shirt and a new spent shell outside the home.
Judge Motto commented, however, that with the exclusion of O'Brien's testimony, which was "pivotal," the opinion of the defense psychologist, Dr. Kirk Heilbrun, who said Jordan would respond well in a juvenile placement, is "on the present state of the record ... unchallenged by the Commonwealth." He said that Jordan has no juvenile record, committed no violence during his stay at the Edmund L. Thomas Adolescent Center and that there are facilities in the juvenile system capable of dealing with juveniles who commit serious crimes.
The most critical factor, Judge Motto said, is "whether [Jordan] can be rehabilitated prior to the expiration of the juvenile court jurisdiction." He concluded that Jordan's age "weighs in favor of the prospects of rehabilitation given that the Defendant was 11 years of age at the time of the offense and presently would be subject to juvenile court jurisdiction for an additional seven years."