Evangelist turns painful past into gospel play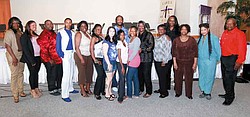 Photo
The cast of "Who Will Wipe MyTears Away," the autobiographical story of Youngstown native Earlina Gilford-Weaver. The play will premiere Saturday at Ford Family Recital Hall in Youngstown.
By GUY D'ASTOLFO
YOUNGSTOWN
Earlina Gilford-Weaver is turning the story of her own life — a sordid yet uplifting saga of abuse, pain and redemption — into a play that she hopes will help others overcome similar woes.
Weaver, an evangelist at No Greater Love Christian Center, has written a book titled "Who Will Wipe My Tears Away," which details the shocking story of her childhood in Youngstown.
She has adapted the book into a gospel play of the same name, which she is directing. It will get its premiere performance Saturday at the Ford Family Recital Hall, downtown.
The autobiographical play is about a young girl who endures a hellish life of sexual abuse beginning at age 8 by men in her family. Her mother knows of the abuse but does nothing.
"It's about a young girl who has been molested and raped, and who is moved through 23 foster homes," said Weaver, accurately describing her own life. "She takes the wrong road in life, she sees family members killed. Then she reunites with her mother and gets her life together and becomes something."
Weaver received a bachelor's degree in nursing in 1989, and later a certification in Christian counseling. She volunteered at hospitals, nursing homes and churches, and also gave motivational speeches to those who suffered similar abuse.
She married in 2008, and continues to minister to young people who are getting out of foster homes and prisons, and taking the wrong path in life.
"The play is about unity," said Weaver. "It's about the things I had experienced in my life, things I saw daily."
Her goal is to reach those who are abused by helping them reconnect with the goodness in their heart.
"We must address the inner heart," she said. "Hurt and pain leads to a lot of wrong choices."