Staff talks, students walk in YSU negotiations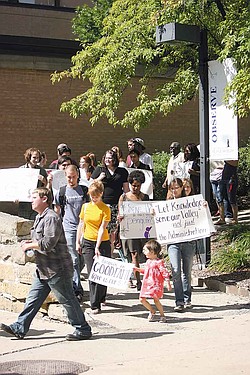 The Vindicator ( Youngstown)

Photo
Youngstown State University students carry signs to Williamson Hall, where contract negotiations with faculty resumed Monday afternoon.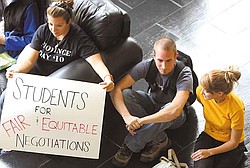 The Vindicator ( Youngstown)

Photo
Julie Sabo of Mentor, left, sits quietly with Jim Davis of Columbiana and Christi Walton of Youngstown during a peaceful protest Monday at Youngstown State University. These three seniors, and other students, had a sit-in at Tod Hall and then walked to Williamson Hall, where contract negotiations with faculty are ongoing. The students are worried about financial aid disbursements, as well as the start of classes.
By Denise Dick
Youngstown
About 30 Youngstown State University students sat on the first floor of Tod Hall with posters, calling for fair negotiations and an end to what they call a freeze in financial-aid disbursements.
Students received an email last week, informing them that financial aid and scholarship funds were frozen because a strike notice from the faculty union puts the date of the start of fall classes in question.
YSU and its faculty union continued negotiations Monday. Classes are to start Monday.
The strike notice means the union could walk off their jobs if an agreement isn't reached by Friday.
The university said it was directed by the U.S. Department of Education to delay the financial-aid and scholarship payments.
"I want to be supportive," said Bradley Slabe, a senior math major from Youngstown, who participated in the sit-in.
He isn't so much affected by the financial-aid delay, but he knows others who are.
Slabe plans to go to graduate school next year, and the uncertainty about the start of the school year puts everything in limbo.
"This is the year that I'll be studying for the [graduate-school exam], applying for grad schools," he said.
Molly Toth, one of the sit-in organizers, said they want the administration to know that students are paying attention and students are affected. She, like other students, donned a winter coat to emphasize the "freeze."
She's hopeful that an agreement can be reached and classes start as scheduled.
"My gut feeling is to stick with the faculty on this issue," said Toth, a senior anthropology major from Struthers.
She said she has a good relationship with her professors and works well with them. She is concerned about junior members of the faculty, who are paid less than the more senior professors, and the effect a 15 percent contribution for health insurance will have on them.
Right now, the minimums will remain at $75,674 for professors, $64,215 for associate professors, $51,238 for assistant professors and $38,689 for instructors.
Cynthia E. Anderson, YSU president, came down from her office to speak to the students. She said both sides are working to resolve the contract issues and get classes started as scheduled.
There will be a fall semester, Anderson said. The university has developed alternative calendars in case classes start later.
"We are dedicated to students — that's not just words," she said. "I hope we've proven that to you in the past."
Meanwhile, students also are using social media to voice their support for either side. Two Facebook pages have been established since the contract dispute erupted.
One, YSU Students for Faculty, which had 512 followers as of Monday, says it stands in solidarity with the full-time faculty.
"Our faculty, who carry heavy teaching loads and provide countless extra hours of service to their students and their university, receive some of the lowest pay in Ohio's public university system," it says.
The other is YSU Students Against a Faculty Strike. More than 600 people had "liked" the page as of Monday.
"We realize that the fact-finders report does contain concessions from the previous contract," the page says. "However, YSU faces a deficit which means they simply cannot afford this deal. With a potential for a double-dip recession upon us, we endorse the administration fiscally conservative approach to the contract negotiations."
At least one member of the administration is calling for shared sacrifice from his colleagues.
Bruce Waller, chairman of the philosophy and religious studies department, wrote a letter to colleagues Aug. 13.
"Speaking in my role as a member of the administration, it seems to me fundamentally unjust that those who are best off — who are receiving the highest salaries — should make no sacrifice in dealing with this financial crisis, while those who are worst off [both students and junior faculty members] are facing major financial hardships," Waller wrote.
He proposes a $1,500 cut in the stipend department chairs receive for administrative duties as department chairs. For most department chairmen, that stipend is $15,000, Waller's letter says.
He acknowledges that cut won't be pleasant and that it will affect the way that he and his family live.
But the sacrifices won't be as painful as the cuts for junior faculty or as the tuition and fee increases will be to students, Waller wrote.
He proposes that his fellow administrators — deans, associate deans, vice presidents, provost, president and other administrative officers — accept a 10 percent pay cut of all pay higher than $100,000.
"Obviously, such a pay cut would not be pleasant; but when one is starting from a salary of $100,000 that is exempt from any reduction, it is obvious that sharing the sacrifice being made by other members of our community would not be painful," the letter says.
Waller calls for all administrators to "forge a bond of fairness and solidarity with our students, faculty and members of the university community, and to aid the university we cherish in its time of trouble,"
In an interview with The Vindicator last week, Anderson said everyone would likely have to share in the sacrifice, but she declined to elaborate.