'Jammin' for Jesus' festival at Fairview Arts features 14 performers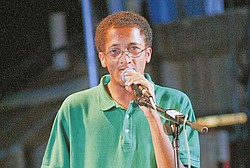 Photo
Boardman High School freshman John Vazquez II raps at the annual "Jammin' for Jesus" festival at the Fairview Arts and Outreach Center in Youngstown.
By Sean Barron
YOUNGSTOWN
Anyone experiencing personal loss or seemingly insurmountable hardships may derive hope simply by listening to Jenah Shank sing.
"A lot of times, we go through a lot of things," said Shank, a singer and songwriter. "My music is basically about how God helped me through things."
One of those difficult things was when Shank's foster brother committed suicide in the mid-1990s. As a result, the Austintown woman said, she wrote a song to address that tragedy.
Shank also was one of about 14 performers who shared their music and messages during Sunday's eighth annual "Jammin' for Jesus" festival at the Fairview Arts and Outreach Center, 4220 Youngstown-Poland Road.
The four-hour event was to have been outdoors but was moved inside because of heavy rain and thunderstorms.
The free family-oriented gathering featured local and regional Christian-based singers and bands, as well as face painting, clowns, crafts, games, activities, a prayer station and prizes for children and adults.
Sponsors were Lost Then Found Ministries, Top Hat Productions, the Jerico Project and the Salvation Army.
At the festival, Shank, who writes her own material, sang "Freedom," "Lazarus" and "I Want Only," all of which Phil Keaggy and John Sferra of the local group Glass Harp have sung.
Sharing the stage with Shank was her 4-year-old granddaughter, Kiara Lutz, who lent her voice to one song.
Attendees also were treated to the voices of Terry and Diane McCabe, who front The McCabe Band, a five-member eclectic group.
"We're a Christian-based group, but we write about anything and everything as seen through our eyes," such as current and past events, personal experiences and faith in God, Terry explained.
Before moving to Campbell in April, the couple lived in Phoenix, where they performed about five shows per month for five years, he said. The McCabes have their own record label but also recently signed with a Mustang, Okla.-based music and publishing company, Terry said, adding that the band specializes in pop music, rock and blues.
The other members are Josh Lattanzi on drums; Ron Cable, lead guitar; and Fred Ervin, bass.
Kicking off the event was John Vazquez II, a Boardman High School freshman who did a few religious rap songs by Lecrae Moore, a Christian hip-hop artist.
Vazquez, who hopes to pursue a music career, recalled having started performing at the family's Boardman church about five years ago. Part of the teen's audience were his parents, John and Francine Vazquez, and sister, Tenette White.
Unhealthy values such as being self-focused and materialistic are reinforced too often in society, so more people need to return to the values and teachings of Jesus Christ, Francine Vazquez said.
The festival's main purposes were to provide a free, family-friendly event for youngsters before they return to school, as well as an opportunity for local and regional musicians to network with one another, noted Rachell Joy, event coordinator.
The other performers were Joy; Julie Palumbo, a member of Lost Then Found Ministries; Brittany Storey; Tierney Chesney; Nikita Jones, a Youngstown State University theater major; Angel Febres; Kyla Geisel; Jordan Stone; Kelly Williams and Diane Karabin, Carla Gipson and Jordan Biel.