YSU president's mettle tested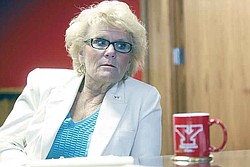 Photo
Cynthia Anderson was sworn in last July as YSU's first woman president, first Valley native and first YSU alumna to be president.
Anderson encounters budget, labor challenges during 1st year
By Denise Dick
Youngstown
Cynthia Anderson's first year as Youngstown State University's president saw creation of a strategic plan, deep cuts to higher education, budget troubles and now labor problems.
"Probably she's the ideal president for the time," said Sudershan Garg, chairman of the YSU board of trustees. "Everyone is a hero when times are good. You're really tested when times are tough."
Anderson was sworn in last July as YSU's first woman president, first Mahoning Valley native and first YSU alumna to be president. She previously served as vice president for student affairs and as a university professor.
As one of her first acts, Anderson directed development of a strategic plan to take YSU through the next 10 years.
"I'm proud of the fact that we put together a strategic plan that will lead us into 2020," Anderson said.
That was a collaborative effort that involved students, faculty, staff, administrators and people from the community at large.
"We did that in about six months," Anderson said.
Unlike plans in previous years, the latest spells out estimated costs, funding sources and parties responsible for shepherding projects.
She's also proud of the two new degrees — a doctorate in materials science and engineering and a master's of education in intervention services — approved by the Ohio Board of Regents for YSU this year.
As far as disappointments for her first year, Anderson said she's realized it's not easy to make quick changes.
One of her early goals was creation of an enrollment center, housing offices now scattered across campus dealing with enrollment into a one-stop location.
She still hopes to do that, but it's not a task that can be accomplished quickly.
"There are processes that have to be in place," Anderson said.
Those who work with Anderson give her mostly high marks.
"I think she's a great human being, and she has been an excellent president," Garg said.
She loves the students, and the students love her, Garg said.
"Student success has been her model, and she's trying her level best to improve student success at YSU," he said.
Garg said Anderson has ensured that trustees have accurate budget information in making decisions. The university is in the hole, he said, and that information has been given to the unions as well.
"If someone can find extra money, we'd be glad to take care of it," Garg said.
The biggest challenge facing Anderson and the university as a whole is the financial situation, he said.
"If I had to use one word to describe Dr. Anderson's first year, it would be engaged," said Thomas Humphries, president of the Youngstown/Warren Regional Chamber. "She's very engaged."
Anderson sits on the Chamber board of directors, traditional for YSU presidents as the university is such a key player in the community, he said.
"I've had a number of individual meetings with her to get to know her," Humphries said.
She's been out in the community and involved with various groups and boards including Wick Neighbors and Athena Award.
"She's stepped up to get involved," Humphries said.
NEGOTIATIONS
Anderson, though, sits at the brink of a dispute with the university's faculty union. University trustees rejected a fact finder's report that would have provided raises of 0 percent, 1 percent and 2 percent for the next three years for faculty as well as increase their health-care contributions. Trustees cited a projected deficit.
The union accepted the report and questions the university's numbers, which they say have changed.
Negotiations are to resume Monday. The union has issued a notice of intent to strike if an agreement isn't reached by Friday.
Because of these talks, Anderson's State of the University address scheduled for Monday will be postponed until after a settlement is reached, said Ron Cole, director of University Communications.
Julia Gergits, an English professor and president of the YSU Chapter of the Ohio Education Association, which represents the faculty, said faculty members, herself included, were looking forward to having Anderson as president.
"A lot of faculty and staff were cheering," Gergits said.
Faculty members believed Anderson would be an advocate for students, faculty and staff and someone with whom they could work, she said.
"With what happened in negotiations, we're not getting what we expected," Gergits said. "The spirit of cooperation hasn't been there — even clear communication hasn't been there. I've been very disappointed."
She acknowledged that it's difficult under the circumstances for her to be objective regarding Anderson's tenure.
While the president doesn't sit at the negotiating table, she sets the tone and direction for them, Gergits said.
Before the contract issues, the faculty union president said, union representatives requested to meet regularly with Anderson to establish a spirit of communication. Two such meetings took place.
"It's tough to see where this is going to go when faculty is being pretty thoroughly beaten up," Gergits said. "She's brand new. She's only had the job a year, and you can say she'll get better. Her credibility with the faculty is hit hard right now."
Anderson declined to respond to Gergits' comments, citing ongoing negotiations.
Students will be paying 3.5 percent more for tuition this year compared to last. With employees being asked to take concessions, shouldn't Anderson and her administration share some of the pain?
"We are all going to have to share the sacrifices," she said but declined to elaborate, saying that would get into negotiations.
Negotiations also are ongoing between the university and its Association of Classified Employees, whose contract expired last week.
Brian Brennan, ACE president, said Anderson has tried to keep the lines of communication open between unions and administration.
"She's encouraged labor peace and open dialogue between labor and the administration, and so far, that's been maintained — the dialogue anyway," Brennan said.
With negotiations going on, that's been the focus of his attention.
He said Anderson has gotten a lot of criticism this year from different corners of campus.
"I'm not joining criticism; I'm still waiting to see how things go," he said. "I still have hope for her."
style
Gary Davenport, a YSU senior and member of the Academic Senate said that in comparison with the style of the previous president, Anderson is more outgoing and willing to be social in how she solicits feedback from faculty, students and staff.
"I think she has largely changed the tone of how she approaches students, faculty and staff," Davenport said. "Previously, there was a divide between the administration and faculty and staff, and it was unnecessarily large."
But he believes Anderson is about to undergo her first test as president.
"We're going to see right now how negotiations are handled with faculty and staff," Davenport said. "September to July was maybe her honeymoon period. She's been doing a good job so far, but this is her first contentious act and we'll see how she handles it."
He said how employees are paid is part of creating a quality campus.
"I hope she realizes that robust salaries and benefits are a boon for the entire campus community and Youngstown as well and should be supportive of means to get qualified applicants on campus for positions and to retain qualified faculty and staff," he said.
Ikram Khawaja, provost and vice president for academic affairs, has been impressed with Anderson's openness in dealing with not only her cabinet and trustees, but also staff, students and others on campus.
"Her mindset is people before she thinks of anything else," he said.
Unlike some other administrations, Anderson is willing to change her mind if there's a good reason to, Khawaja said.
Plans for a $13.7 million project to renovate Kilcawley Center started years ago when Anderson was vice president of student affairs. The project went through the planning and approval process and was set to start last May.
When bids came in above what was expected, he expected Anderson to look for additional money elsewhere at the expense of other projects. Instead, she postponed the project and diverted the money already allocated to it to improvements at academic buildings.
"I'm told some of those areas haven't been painted in 30 years," Anderson said.
She said she wants to focus on the academic areas on campus.
Buildings planned for improvement are DeBartolo, Cushwa and Bliss halls.
Elyse Gessler, a YSU junior and president of the Student Government Association, admires Anderson's involvement in the community as well as on campus.
She's on campus mingling with students, staff, administrators and faculty, Gessler said.
"I'll be in my office, and Dr. Anderson will stop in just to see how things are going," the SGA president said.
She said she's known Anderson since coming to campus as a freshman and appreciates how she strives to have face-to-face interaction with individual students.
"I wouldn't change anything that she's doing," Gessler said. "I'm trying to model my leadership style after her. I think she's an excellent president, and I think we're lucky to have her."