September date set for wedding for photographers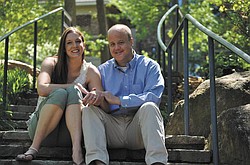 Photo
Mindy Neill and Gray Cecil
BUTLER, PA.
Edward and Patricia Neill of Butler are announcing the engagement of their daughter, Mindy Neill, to Gray Cecil, both of Greenville, S.C.
Both the bride-elect and the prospective groom are news photographers for Fox Carolina News in Greenville.
She holds a bachelor's degree from Westminster College.
Mr. Cecil, who is a son of Patrick and Nancy Cecil of Spartanburg, S.C., attended the University of Georgia and the College of Charleston.
The couple are planning a Sept. 17 wedding at 4:30 p.m. at Butler Assembly of God and an evening reception at Days Inn. Invitations will be issued for both events.
More like this from vindy.com