SB 5 opponents snub invitation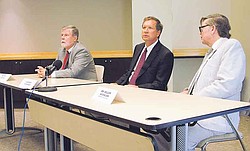 Photo
From left, Senate President Tom Niehaus, Gov. John Kasich and House Speaker Bill Batchelder criticize public-employee unions and other Senate Bill 5 opponents after the latter declined an invitation to participate in last-minute negotiations to remove Issue 2 — the new collective-bargaining law — from the November ballot.
By Marc Kovac
COLUMBUS
With an empty table topped with place cards naming the state's top public-employee unions and six empty chairs for dramatic effect, Gov. John Kasich and Republican legislative leaders chastised Senate Bill 5 opponents Friday for refusing to participate in last-minute negotiations to remove Issue 2 from the November ballot.
The governor did say his door would remain open to union officials who are willing to talk.
"But, you know, the train's left the station," Kasich said. "Our campaign's going to be strong. It's going to involve the grass roots. People are going to know what's going on."
On Wednesday, Kasich, House Speaker Bill Batchelder and Senate President Tom Niehaus sent a formal letter to We Are Ohio, the group that spearheaded an effort to place Senate Bill 5 before voters, asking members to participate in negotiations that would lead to the removal of the issue from the ballot.
On Thursday, We Are Ohio responded that it would enter negotiations only if Republican lawmakers were called back into session before the end of the month to repeal Senate Bill 5 in its entirety. The bill would strip public employees of many collective-bargaining rights.
And on Friday, no representatives from We Are Ohio, the AFL-CIO, SEIU and other unions that represent teachers, police, firefighters and other public workers opted to attend Kasich's compromise meeting near the Statehouse.
The governor, Niehaus and Batchelder instead used the occasion to tout the need for collective-bargaining reform and to spotlight, in their words, the refusal of labor unions to negotiate with them or the local government officials who sign their paychecks.
"You have the three leaders of the state of Ohio sitting here, the [Senate] president, the speaker of the House and the governor of the state, and they won't show up?" Kasich said. "I've never seen anything like this in my entire career. What is going on with people?"
Batchelder called the lack of response "a complete abdication of moral responsibility on their part."
"So here we are today … the second time around trying to work with the people who don't want to come to the table, who don't want to offer amendments, who don't want to represent their own membership," Batchelder said. "This is a dark hour. ... This is a tough time for those of us who believe in real collective bargaining."
In a released statement afterward, We Are Ohio again called on Kasich and Republican lawmakers "to repeal all of Senate Bill 5, the unfair and unsafe bill that hurts us all. We Are Ohio called on these leaders to first repeal all of Senate Bill 5 to ensure a fresh start to the process. A total repeal prior to future discussions is needed due to the lack of trust resulting from the numerous political tricks these leaders played to pass Senate Bill 5."
More like this from vindy.com