Browns not as sharp in defeat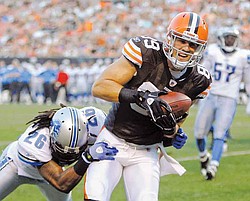 ASSOCIATED PRESS

Photo
Cleveland Browns tight end Evan Moore (89) catches a 2-yard touchdown pass against Detroit Lions safety Louis Delmas (26) in the first quarter of an NFL preseason football game Friday, Aug. 19, 2011, in Cleveland. (AP Photo/Tony Dejak)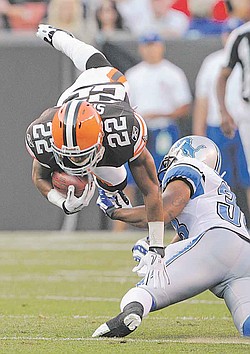 ASSOCIATED PRESS

Photo
Cleveland Browns' Buster Skrine (22) is upended by Detroit Lions cornerback Paul Pratt on a first-quarter kick return in a preseason NFL football game Friday, Aug. 19, 2011, in Cleveland. (AP Photo/Amy Sancetta)
Associated Press
CLEVELAND
Colt McCoy threw three touchdown passes — two to tight end Evan Moore — in the first half, but the Cleveland Browns blew a 15-point lead after halftime and lost 30-28 to the Detroit Lions on Friday night in a penalty-filled exhibition that showed both teams have plenty to fix in the next three weeks.
McCoy finished 10 of 18 for 96 yards, his second straight solid performance running first-year Browns coach Pat Shurmur's new West Coast offense. McCoy was victimized by a few drops and wasn't as sharp as in last week's win over the Super Bowl champion Packers. However, the second-year QB showed poise, ran away from Ndamukong Suh and didn't force any throws while playing most of the first half.
The Lions (2-0) trailed by eight entering the fourth, but got a 20-yard TD pass from Drew Stanton and Dave Rayner's 48-yard field goal.
Referee Mike Carey and his officiating crew had a busy night. The teams were assessed 26 penalties for 211 yards.
Moore caught TDs of 2 and 21 yards, rookie Greg Little grabbed a 13-yarder from McCoy, and rookie Armond Smith had an 81-yard TD run in the third for the Browns (1-1), who were without eight starters, including running back Peyton Hillis.
Detroit quarterback Matthew Stafford threw one TD pass to Nate Burleson. Stafford went 6 of 10 for 85 yards in four series.
Jason Hanson kicked two field goals for the Lions, who also rested several starters, including wide receiver Calvin Johnson, because of injuries.
McCoy seems perfectly suited for the West Coast attack, an offense that puts a premium on accuracy, timing and precision — by the QB and receivers. Earlier this week, McCoy revealed he spent time during the NFL lockout in Mississippi learning the offense's many nuances from Brett Favre, the three-time NFL MVP who was taught it in Green Bay by Browns president Mike Holmgren.
With the Browns thin at wide receiver, Moore, who showed potential last season but has had injury issues, could become McCoy's favorite target. The 6-foot-6, 250-pounder certainly looks the part, but it remains to be seen if he can handle it. McCoy found him twice in the first half, helping the Browns build a 21-10 lead.
The Browns' first possession was poor — two dropped passes and a 1-yard run. But Cleveland got the ball back when rookie defensive end Jabaal Sheard stripped Lions running back Jahvid Best. Five plays later, McCoy rolled right and made a quick toss to Moore for the TD.
Stafford came back and tied it with his 4-yard strike to Burleson, who made a leaping catch in the back of the end zone and was able to get both feet down.
McCoy's second TD toss to Moore put the Browns ahead 14-10. After Jordan Norwood's 20-yard punt return, McCoy lofted a pass into the end zone for Moore, who made a sliding over-the-shoulder catch in the right corner that was first ruled out of bounds. However, the call was overturned by a video replay.
Moore later took a hard hit on a 17-yard reception. He got up slowly, and remained in the game. Moore didn't return to the sideline after halftime, and a team spokesman had no information on his status.
McCoy's TD pass to Little followed a sequence of five penalties — three by the Browns, two by the Lions — in six plays. It was Little's first TD in over two years because he had to sit out last season at North Carolina for having improper dealing with an agent, and he celebrated by punting the ball into the stands.
That didn't please Shurmur, who spoke with the second-round pick on the sideline.
McCoy also avoided any major contact with Suh, Detroit's defensive end who was fined $20,000 on Wednesday by the league for a hit on Cincinnati quarterback Andy Dalton last week. Suh only got his hands on McCoy once, pushing him out of bounds to end a scramble.
Detroit's offense was missing one of its main cogs as Johnson was a late scratch with a bruised shoulder. Johnson, who had 12 TD catches last season, was not one of the players listed as inactive, but the Lions announced before the game that he wouldn't dress.
A Lions spokesman said Johnson was held out as a precaution.