Young inventor pops onto scene
Toaster Pop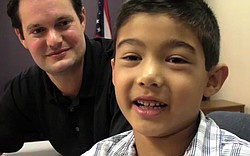 Video
Connor Zamary, 7, of North Lima, Oh. invented an iphone app called Toaster Pop.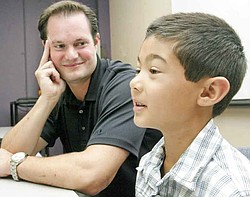 Photo
Connor Zamary, 7, of North Lima invented an iPhone and iPod application called Toaster Pop. He went through the entire business process, from filling out paperwork to pitching investors and talking with a developer. He eventually wants to be an entrepreneur, just like his father, Craig, founder and president of GreenEnergy TV.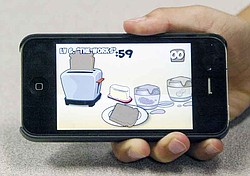 Photo
Toaster Pop is available in Apple Inc.'s App store for 99 cents. Gamers try to spread butter jam and other toppings on one of Connor's favorite breakfast foods — toast — to try and achieve high scores.
A little ingenuity goes a long way for 7-year-old North Lima boy
By Karl Henkel
NORTH LIMA
Meet Connor Zamary.
He's started his own limited liability corporation.
He's presented in front of investors.
He's invented his own iPhone and iPod application.
And, oh yeah, Connor is just 7 years old.
The soon-to-be second-grader recently debuted his first app called Toaster Pop, a brightly colored game in which participants try to spread butter, jam and other toppings on one of his favorite breakfast foods — toast.
But the tech-savvy Connor, who attends South Range Elementary in Beaver Township, drew his inspiration from something his father showed him earlier this year: an old-school, pop-up toaster.
"I didn't know about one before," Connor said. "Then it just came to my mind: This could be a really good app."
He tied two generational appliances together, and in March, Connor began a five-month journey.
The process, which ended with the Toaster Pop's recent debut, wasn't as simple as he thought.
The youngster had to fill out forms many adults have never seen or dealt with, including the legal paperwork to file for an LLC and a nondisclosure agreement when he met with an investor, Benjamin Daniel Ventures, which signed on after Connor gave a PowerPoint presentation he designed himself.
He got some assistance from his father, Craig, founder and president of GreenEnergy TV, but did most of the grunt work himself. Zamary said he told Connor if he wanted to invent an app, he'd have to go through the legal and business processes to get there.
"I didn't want to be the dad who was the idea killer," Craig Zamary said. "This is his thing. He wants to do it. If he makes mistakes, that's how you learn. If I do it, it's a disservice to him. This is about his path."
So far, the path has been clear.
The app also has received rave reviews from users. It's currently ranked as a five-star application — the highest rating available — because it's simple enough for those children who borrow their parent's iPhones, yet challenging enough that it keeps gamers coming back for more.
It also has Connor — who bounces ideas off his three siblings and many cousins — ready for more: He's already started plotting out Toaster Pop 2.0, which he says will include "the elusive golden toast."
For now, however, he's content with Toaster Pop, available for 99 cents in Apple Inc.'s App store.
Apple makes a 30-cent commission on the app; Connor will get to keep the rest.
He already knows exactly what he wants to do with it. Some will go toward his college fund (he wants to be an entrepreneur just like his father), some will go toward buying his brothers and sisters iPods (you know, to play Toaster Pop).
The rest, he'll donate to the children in Somalia in east Africa, a nation devastated by the worst famine in 20 years.
"When I heard about the starvation down in Africa, I thought, 'Wow, maybe this app could help,'" Connor said. "Some of the money could go to Africa to help the kids down there."
It may seem like Connor is all business, but he also makes time for normal 7-year-old activities, including sports and reading most of the "Harry Potter" books. That is, when he's not playing Toaster Pop or his previous favorite app, the hit sensation Angry Birds.
But life as an inventor occasionally postpones some regular daily occurrences, most notably bedtime. Zamary said his son sometimes stays up a bit later than normal so he can speak with Michael Gill of Dynamic Visions, the application's California-based developer.
"It's kind of funny because he goes to bed at about 7:30 or 8 p.m.," he said. "When he's done, I've got to say, 'Go upstairs and brush your teeth, buddy. It's time for bed.'"
Bedtime isn't the only restriction. Despite having his own LLC, Connor doesn't have his own email account — yet.
"It's going to be a little while," Zamary said with a chuckle. "I told him he's got to use mine, but he still signs his name 'Connor' with a little smiley face."
Connor admits he's done something few his age have been able to accomplish, but says he doesn't think it'll change his everyday life, including at school.
"I doubt it [will change anything]," he said. "I'll just be a normal kid at school again."