Bridge renamed for Brier Hill booster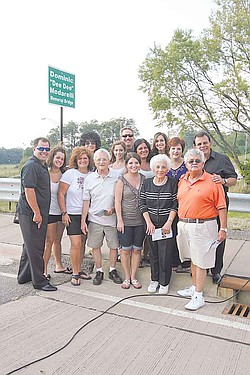 Photo
Members of the Modarelli family stand in front of the new bridge sign after the ribbon-cutting ceremony and dedication of the Dominic "Dee Dee" Modarelli Memorial Bridge in Youngstown. The event also marked the beginning of the Brier Hill Italian Festival.
By GUY D'ASTOLFO
YOUNGSTOWN
The late Dominic Modarelli's love for his neighborhood now will be known to all who pass through.
The Burlington Street Bridge, which crosses Route 711 in Brier Hill, officially was renamed the Dominic "Dee Dee" Modarelli Memorial Bridge in a dedication ceremony Thursday.
The ceremony included the unveiling of signs at either end of the short two-lane span. It also kicked off the annual Brier Hill Italian Fest — which Modarelli founded — about a block away. Modarelli, who died in 2009 at age 77, grew up in the neighborhood, which once teemed with Italian immigrants and their children.
The son of an immigrant, Modarelli was one of 10 children. As his beloved neighborhood began to decline, Modarelli launched his efforts to keep its memory alive. He began purchasing property, including Kayo's Bar at Calvin and Victoria streets, in 1970. Kayo's later would become Brier Hill ITAM Club Post 12, and the focal point of the community.
A bricklayer and contractor, Modarelli also bought the land across the street from his club where he built — literally — boccie courts, a pavilion and a war memorial.
The reminiscing that went on at the ITAM club gave Modarelli an idea to start a festival in his old neighborhood, said Claire Maluso, who spearheaded the effort to rename the bridge.
With the help of Maluso, who was event director for the city of Youngstown at the time, and then- councilman Joey Naples, the first Brier Hill Italian Fest took place in 1992. Maluso has been a co-director of the festival since it began.
Now in its 20th year, the annual street fair opened Thursday after the bridge dedication and will run through Sunday in and around the pavilion and boccie courts that Modarelli built.
The bridge ceremony was scheduled to include remarks by Maluso; state Sen. Joe Schiavoni, who worked in Columbus to rename the bridge; Youngstown Mayor Charles P. Sammarone and other officials.
More like this from vindy.com
August 19, 2011 12:01 a.m.