Browns confident as McCoy grows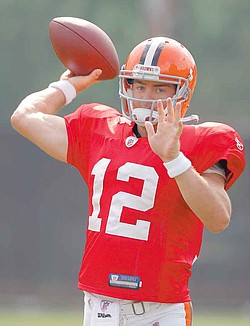 ASSOCIATED PRESS

Photo
Cleveland Browns quarterback Colt McCoy passes during the teams' NFL football training camp in Berea, Ohio on Monday, Aug. 15, 2011. (AP Photo/Amy Sancetta)
Associated Press
BEREA
Colt McCoy showed up for Saturday's postgame news conference wearing a T-shirt endorsing a fishing tackle company.
Maybe best to reel in the expectations right away.
After all, McCoy may have a tough time topping his exhibition debut.
Looking poised and comfortable in Cleveland's new West Coast offense, McCoy outshined Super Bowl star Aaron Rodgers and was nearly flawless as the Browns beat the Green Bay Packers 27-17, making Cleveland rookie coach Pat Shurmur a winner in his first NFL preseason game.
McCoy completed 9 of 10 passes for 135 yards, one touchdown and compiled a 152.1 passer's rating — just a few points shy of perfection.
The Browns, who have spent the past decade in a frustrating search for a franchise quarterback to lead them back to respectability, are hoping McCoy, may finally answer their prayers.
He's off to a nice start.
"Pretty good," McCoy humbly said in assessing his performance. "We understand we have a long way to go."
No doubt. But for the first time in ages, the Browns, who have just one playoff appearance since 1999 and lost at least 10 games in seven of the last eight seasons, seem to be headed in the same direction.
And, they're counting on McCoy to lead the way.
Needing to get up to speed on the complex offense during the offseason, McCoy sought advice from a West Coast master.
Brett Favre was happy to help.
As the league's labor lockout dragged on, McCoy went to Hattiesburg, Miss., and spent a few days with the three-time NFL MVP, who learned the West Coast system while playing for Browns president Mike Holmgren in Green Bay. McCoy gleaned all he could from the-retired-at-the-moment Favre, who won a Super Bowl with Holmgren in the 1996 season.
"Since I couldn't get coached, it was a great opportunity to pick the brain of a guy who played in the system for 20 years," McCoy said through a team spokesman.
"It was a chance for me to get a lot of questions answered. We worked on footwork, progressions, reads and things like that. It was definitely a positive trip."
Shurmur was encouraged by McCoy's first outing in the passer friendly system the first-year coach brought from St. Louis, where he taught it to Rams quarterback Sam Bradford. Shurmur knows it can work, and is pleased with how quickly McCoy has picked it up in training camp.
"He was efficient," Shurmur said after Monday's practice.
"He saw what was going on extremely well. He was pretty accurate with his throws and pretty solid with his decision making.
"But again, once you have what would be considered a solid performance, then it's all about consistency and he was right back on the stick this morning, getting better at some things."
McCoy will get a chance to build off his impressive debut on Friday, when the Browns host Detroit.
After dissecting the Packers, who were without star cornerback Charles Woodson and are currently thin in the secondary, McCoy was careful not to make too much of his strong game.
He also made sure he spread the praise around to his teammates.