Rain fails to vex concert downtown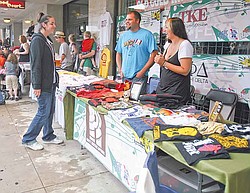 Photo
Kate Butler, 27, right and friend Mark Griffin, 28, sell Rusty Waters T-shirts during the Vex Fest on Sunday. Butler, a Youngstown native, cofounded the company in 2005 promoting the grit of Rust Belt cities.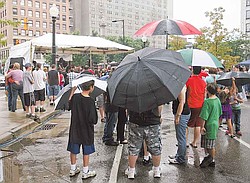 Photo
Attendees of the eighth Vex Fest stand beneath umbrellas as Youngstown band Love Turns Hate took the stage. Sunday's event featured bands from a wide range of states such as New York and California.
Youngstown
Despite the sporadic rainfall in the Mahoning Valley on Sunday, thousands of waterlogged rock fans still filled downtown's streets for the eighth annual Vex Fest.
"People are already wet, so they're thinking it doesn't really matter," said Kate Butler, 27, of Pittsburgh. She stood under a overhang attempting to keep dry the T-shirts she sold.
Organizer Jason Tibolla said the numbers were relatively high despite the rain because the event is free.
"It's extremely important to keep it free," he said, pointing at the sky. "It's raining in downtown Youngstown, yet there's a couple thousand people down here."
The event has changed over the years and expanded. The event drew 5,000 people in 2003 and 8,000 in 2010, Tibolla said. It added a fifth stage this year. It draws larger crowds as the festival organizers open its stages to more genres, something Tibolla said caused a rift with local heavy-metal fans.
This year featured R&B artist Diamond Nicole while earlier in the day Youngstown band Love Turns Hate took the stage. Band members describe themselves as a mesh of Aerosmith, M ∂tley Cr ºe and more modern bands such as Three Days Grace.
"It was originally a heavy concert, and now it is a multifaceted music festival," he said. "It means one big music festival coming to downtown Youngstown."
The crowd was varied as families shopped tables of merchandise alongside black T-shirt clad, tattooed patrons. Bracelets, CDs band T-shirts and Butler's Rusty Water T-shirts. The shirts are made to represent the grit of Rust Belt cities like Pittsburgh, Cleveland and Youngstown. She and Adam Chizmar started the company in Youngstown in 2005 and have sold their apparel at Vex Fest ever since.
"The families bring the kids in the day, mom and dad come back alone at night," Tibolla said.
And the variety of fans was matched by the various parts of the country from which the bands came.
Lined up to play were The Trophy Wives from Kentucky and Chicago, Jungol from Atlanta and headliner Boombox from Tennesse and California. Tibolla said.
"We've got three bands from Brooklyn, N.Y.," he said.
Tibolla wasn't sure whether the rain would keep the festival from matching last's year attendance figures.
"Everything could change," he said. The sky could turn blue, and we could have 5,000 people show up," he said.
Regardless, when Love Turns Hate hit the stage, patrons that were crammed into the bars and restaurants that line Federal Street emerged. Already soaked, they stuck out the weather and enjoyed the music.
By 10 p.m., the sky didn't clear, but the rain held off as the quartet Jones For Revival took the Market Street stage. And people jammed the blocked-off section of Federal Street before it.
"Comparatively, I think we have a better [rock] scene here than some of our surrounding areas," said Tony Young, one of Love Turns Hate's guitarists and songwriters.