Penchant for history pays off for student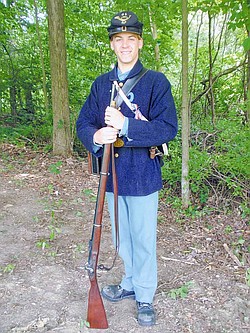 Photo
Dalton Boszé, a Canfield High School senior, likes to participate in Civil War re-enactments.
CANFIELD
A grandfather's train and a silent movie sparked a passion for history for one local student.
Dalton Bosz made it to the finals of the HISTORY and Houghton Mifflin Harcourt's National Civil War Student Challenge. The Canfield High School senior finished in the top 30 out of more than 22,000 students age 13 to 19 who participated in the nationwide contest.
"It was me, a pencil, a chair and a table," said Bosz . "It was fun, but at same time a stressful experience."
Bosz qualified for a chance at a $15,000 college scholarship grand prize after he placed in the top 30. To prepare, he said, he read about things he found more difficult on the qualifying test.
"If I know it, I know it," said Bosz . "If not, I'm not going to get it."
Canfield High School Principal Michael Moldovan administered the final 100-point test that included fill-in-the-blank, multiple choice, matching and essay questions.
The effort netted Bosz a $25 gift certificate and his school $400 in classroom supplies.
Moldovan said the school received history- themed DVDs and media material that will be used by the staff, especially the social-studies department. He said the school community was very proud of Bosz .
"Dalton is a wonderful young man who is very successful in his academics and is involved heavily in the band," said Moldovan in an email. "He has a serious love for history, especially the Civil War."
When Bosz was 8, he said he watched a black-and-white silent film because his grandfather, Michael Rosko, owned a model-train set.
"I watched the 'Great Locomotive Chase,'" said Bosz . "I noticed the uniforms in the movie and wanted to know more."
When he moved to Canfield two years later, he said he saw the 61st Ohio Volunteer Infantry, Company D re-enactment unit at the Canfield Fair.
"Mommy, Daddy, can I join?" Bosz said he remembered asking when he was 10. "I sucked the whole family into it."
He and his parents, Dean and Shere , and sister, Victoria, take part in Civil War re-enactments. Bosz has participated in battle re-enactments and living histories at the Canfield Fair and in Gettysburg, Pa.
"The test was easier for me because I know what went on in the era, because you don't want to provide misinformation when you're re-enacting," said Bosz .
He also said he dug into his family's past and found that a descendent on his mother's side of the family, Thomas Lobb, immigrated from England and belonged to the 68th Pennsylvania Volunteer Infantry that fought at Gettysburg.
"I am very proud that the first in my family that came to this country fought in the Civil War," said Bosz .
David Costello, a retired Canfield teacher, said he believes the re-enactments help Bosz have a very deep understanding about history.
"He thinks about the implications of past and present," said Costello. "And has a passion for the subject."
Bosz said he hoped he could use what he's learned about the past to lead the country one day.
"I really feel there's too much bureaucracy," said Bosz . Politicians "don't act like statesmen."
Before Bosz can look to the future, he will be busy finishing his last year at high school. He is a member of the Canfield High School symphonic and marching bands, Stambaugh Youth Concert Band, OMEA All-states Band, speech and debate team, Academic Challenge and will enter the National Honor Society.