New Lago Winery in Jamestown, Pa., exudes in opulence of Tuscany, Italy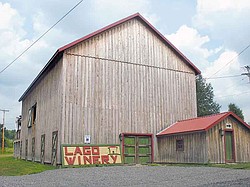 Photo
Step inside this renovated barn for a glass of vino and some live entertainment. The barn was built in 1904 and was once an exhibition building at the 1904 World's Fair in St. Louis.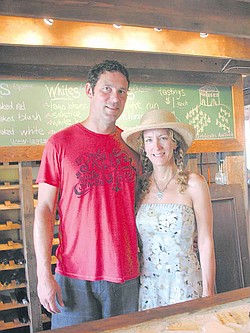 Photo
Doug Shannon and his wife, Connie, run the Lago Winery in Jamestown, Pa, near Pymatuning Lake and the Jamestown Deer Park. Lago means lake in Italian.
By REBECCA SLOAN
news@vindy.com
JAMESTOWN, Pa.
At first glance, it's a sunny scene from the Tuscan countryside.
A stone villa with a tiled roof sits high atop a grassy hill, fronted by a mini vineyard and flanked by a tranquil, turquoise swimming pool.
At the bottom of the hill is a spacious barn brimming with live music, merry revelers and, most important, wine. Bottles and bottles of free-flowing wine. Sweet wines, red wines, white wines — the cups runneth over, and the mood is jovial.
But wait a minute. This isn't Tuscany.
This is Jamestown, Pa., in rural Mercer County, and that stately, red-roofed villa is really a renovated farmhouse built in 1802 by a traveling Presbyterian preacher.
Furthermore, that beautifully remodeled barn packed with wine-sipping patrons was originally an exhibition building at the 1904 St. Louis World's Fair.
While things at Lago Winery may not be exactly as they first seem, the eclectic pieces fit together to create a surprising mix of country charm and Italian opulence.
Doug Shannon, who owns Lago with partner Bob Naples of Cortland, said the winery's pastoral location near the shores of Pymatuning Lake has proven to be the perfect setting.
"This is a resort area and a lake town, and there was a demand for escape and entertainment for adults. The kids can go to Deer Park in Jamestown, and there are things to do at the local state park, but the area was really begging for a place like this," said Shannon, who grew up in Jamestown and works full-time in orthopedic sales. 
Shannon said response to the winery has been very positive.
"More than a million people visit Pymatuning State Park every year, and we have an average of 400 to 500 people coming through the winery every weekend," he said. "We get people from Pittsburgh, Cleveland and Youngstown, as well as locals. America is drinking more wine."
Shannon and Naples, a Cortland physician, have been making wine and drinking wine together for many years and often talked about opening a winery.
That dream took shape after a vacant Jamestown farm caught Shannon's eye.
"I had always admired this farmhouse way up on the hill," he said. "About 12 years ago I took a trip to Italy, and when I looked at the house after taking that trip, it reminded me of Tuscany. The house was just sitting here, waiting for someone to do something with it, and the property had so much potential."
Shannon succeeded in purchasing the property but had his work cut out for him in turning it into a Tuscan showplace.
The old farmhouse was in disrepair, and it took six years to transform it into the stunning structure it is today.
Renovation included gutting the house, adding a cupola and tile roof and covering the exterior with about 30,000 stones. Updates also included an in-ground swimming pool, an outdoor bar and a Tuscan-style carriage house.
The house is now a bed and breakfast as well as a private residence for Shannon, his wife, Connie, and their children.
The home's interior boasts a mixture of rustic country antiques and Old World opulence. Rooms cost about $199 per night, and guests receive breakfast and a bottle of wine.
The winery, which is housed in the renovated barn at the entrance of the property, includes a stage for live entertainment and an upstairs art gallery. The winery soon will feature an oven for cooking wood-fired pizzas.
"We are going to assemble the pizza oven, which came all the way from Italy, inside the barn's old silo," Shannon explained.
Right now the only food on Lago's menu is gourmet cheese trays.
Lago's 10 varieties of wine are made in the barn's basement from grapes grown mostly in Western New York.
"We also have a vineyard in Brier Hill in Youngstown, and we will eventually make wine from grapes grown here at Lago as well," Shannon said.
Lago, by the way, means "lake" in Italian.
Lago's wine list includes White Horse, a Riesling; Solstice, a Chardonnay; Midnight Run, a Pinot Noir; Dark Horse Reserve, a Cabernet/Merlot; and sweet wines such as Running Naked White and Running Naked Blush.
"A lot of people prefer sweet wines, but we sell plenty of the dryer wines, too," Shannon said.
The winery is located at 4340 East Lake Road, Jamestown, Pa. Hours of operation are noon until 7 p.m. Fridays and Saturdays and noon until 8 p.m. Sundays.
The winery features live entertainment every Saturday and Sunday from 3 until 6 p.m.
For more information visit www.lagowinery.com or call 724-932-2182.