Mixed reports surround Hammond transfer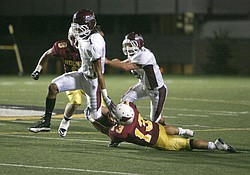 Photo
Dayne Hammond (#1) is seen here during Cardinal Mooney's win over Boardman in the 2010 season. Hammond had planned on playing for Warren G. Harding this year.
By Joe Scalzo
Boardman
According to one news report, standout wide receiver Dayne Hammond's Warren Harding career is over before it started.
If so, it's news to his family.
WFMJ-TV reported Saturday that the Ohio High School Athletic Association has rejected Hammond's transfer from Boardman to Warren Harding. Citing anonymous sources, the station said Hammond will try to go back to Boardman to play, but the coaches and players will decide if he returns to the team.
But Hammond's mother, Jill Cox, said Saturday that neither she nor Hammond's father have seen anything official from the OHSAA.
"Not sure where that information came from," she wrote in an email from Madison, Wis., where she was visiting her older son, Chase, who plays for the Badgers. "Still not sure what the outcome will be."
Warren Harding coach Rick Rios was also surprised by the report, saying Hammond's move to Warren has yet to be completed and that the school hasn't even sent in Hammond's paperwork to the OHSAA yet.
Hammond declined comment. Boardman coach Mark D'Eramo and athletic director Dave Smercansky did not return calls Saturday seeking comment. Warren Harding athletic director Paul Trina also did not return a call.
Hammond (6-6, 185), who earned first team all-conference and all-district honors last fall, has scholarship offers from Ball State, Toledo and YSU.
OHSAA bylaws allow transfers for "bona fide moves" into new public school districts. In a new rule this year, parents are required to answer additional questions about the nature of the move before gaining approval.