39 Guard members return to Valley after year in Kuwait
Welcome home 292!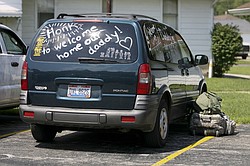 Gallery
BY Jordan Cohen
NEWTON FALLS
With cheers and applause from their families, 39 members of the Ohio National Guard based at the Ravenna Arsenal stepped off two buses in a church parking lot and returned home Saturday after a year's deployment in Kuwait.
"This is a great feeling, and I've got so much catching up to do," said Spc. Michael Burke, Boardman, as he held his 4-year old son, Landon and 5-year-old daughter, Maddisen. For the past year, he relied on Skype, the videophone technology, to stay in daily touch with his family.
Burke's unit, the 292nd Engineer Detachment, conducted construction work at a large military base and other locations in Kuwait. Guardsmen also assisted in building Patriot Missile sites. The unit was not involved in any combat operations.
"The toughest thing to deal with while he was gone was taking care of the kids because it's like being a single mother," said Burke's wife, Kelly, while Landon and Maddisen held signs and balloons welcoming their father home. She said she and the other Guard families could rely on the unit's family readiness group for emotional assistance and other help during the deployment.
Many of the families held signs and photos. Car windows were festooned with hand-written welcome home signs. The son and daughter of Sgt. Brandon Hadley, Akron, wore jerseys with the words "proud Army son" and "proud Army daughter."
Hadley had previously served in Iraq before redeploying with the 292nd.
"We're just going to get away for awhile, just the two of us," said his wife, Tara.
For Linsy Perez, 41, of Boardman, the absence of children for military deployment is a regular occurrence. Two of her sons, Staff Sgt. Kristopher Slater, 27, and Staff Sgt. Jacob Perez, 20, served with the 292nd, while another son and daughter served with other National Guard units in Iraq.
"It is tough but I communicate with the Lord each day, and that helps get me through," the soldiers' mother said.
The homecoming was especially sweet for Jacob Perez as he held his fianc e, Paige Donatelli, 20, and the couple's 8-month-old daughter, Zoey, whom he last saw when he was on leave nearly five months ago.
"I missed not being here for my family," Perez said, but admitted he is considering joining the regular Army. His brother said he hopes to become an active rather than reserve National Guard member, but will resume his business studies at Youngstown State University.
The families should have at least two or three years without facing new deployments, according to Capt. Matt Molinski, the Ohio National Guard public information officer. "Several of them could decide individually to deploy with other units," Molinski said.