YWCA, ex-director improved together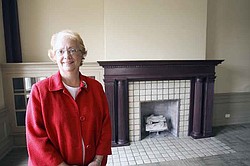 Photo
Constance Shaffer, retired executive director of the Youngstown YWCA, stands in front of a fireplace in the lobby of the YW building.
CONNIE SHAFFER | Bio
Age: 64
Education: 1964 graduate of Chaney High School; graduated in 1986 from Youngstown State University with a bachelor's degree in psychology and business and has taken graduate business and counseling courses.
Family: Daughter of Concettina J. Fermendzin and the late Anthony Fermendzin; husband, Charles J. Shaffer; five children, Tom W. Shives of Atlanta; Ron N. Shives of Struthers; Connie Lynn Shaffer of Struthers; Catherine A. Baschnagel of Poland; and Charles A. Shaffer of Struthers; and eight grandchildren.
Source: Connie Shaffer
YOUNGSTOWN
Constance Shaffer, retired executive director of the Youngstown YWCA, came to the agency nearly 20 years ago when both she and the YW were in desperate need.
Shirley Poindexter, board president, credits Shaffer, who retired in June, with transforming the YW from an agency on the brink of financial disaster to an organization moving in the direction of the community's greatest need.
Likewise, 20 years ago Shaffer was having her own problems and wondering if she would survive.
In 1988, she injured her arm and shoulder while attempting, with others, to restrain a client at the Mahoning County Board of Developmental Disabilities' Bev Road workshop where she worked.
From that injury, she developed reflex sympathetic dystrophy syndrome, also known as complex regional pain syndrome or shoulder-hand syndrome. The major symptom is debilitating severe, chronic pain, which some sufferers say feels as if the part of their body affected is "on fire."
Before the injury, Shaffer said she was a "dynamo going 100 miles per hour. Reflex sympathetic dystrophy stopped me dead in my tracks."
Severely depressed, Shaffer wondered if she would ever work again.
Then, in 1991, she answered an ad in the newspaper for a part-time payroll clerk at the YW, and the healing began — for her and the YW.
The pain didn't go away, but at the YW Shaffer said she "saw a need that I could fill. The YW has room for people to find themselves and be the best that they can be."
"The YW was part of my emotional healing, and with the help of the YW board of directors and the community, I helped heal the YW financially," she said.
"I believe answering the newspaper ad was fate. The YW has been kind of my church — my expression of faith — in that it does good work. It reaches out a hand to those in need," Shaffer said.
Fate seemed also to take a hand in her YW career.
Shortly after accepting the part-time position, Shaffer said the local United Way encouraged her to become the agency's program director, and three weeks after that, the YW's executive director left for another job.
Shaffer said she offered to be interim director but had no intention of applying for the executive director job.
The rest, as is said, is history.
Shaffer was hired in September 1993 as executive director and began the work that culminated on June 16 this year with dedication of the $10 million renovation and historic preservation of the century-old YWCA building at 25 W. Rayen Ave., near the city's downtown.
It was important to the YW board to remain committed to people who lived and worked in the inner city and not contribute to the city's deterioration, she said.
In her tenure as executive director, Shaffer has been at the forefront in identifying the needs of women in the community and to find solutions to empower them.
She has addressed issues such as homelessness, unemployment, health education and awareness, barriers to self-sufficiency, transportation, opportunities for education and training, and affordable and accessible child care, said Leah Brooks, appointed interim director while a search is conducted for a permanent director.
"She is a great friend, a patient mentor, a charismatic leader and a problem-solver of the finest grade. Connie will be greatly missed by the YWCA family," Brooks said.
Besides working at the Mahoning County Board of Developmental Disabilities as a habilitation specialist, Shaffer had been vocational evaluator aide, placement specialist and program manager at Goodwill Industries.
At the dedication of the renovated YW, Shaffer was described as the major driving force in preserving the YW, the symbol of women's history in the Mahoning Valley.
Describing it as a "labor of love," Shaffer dedicated the renovated YW "to the mission of the YWCA and to the women," in what she said would be her final public address as executive director.
"I'm a lucky lady. I've had a great job, but I also have a wonderful family that I want to spend more time with," she said.
"There came a time when I needed to go home to the man I love. He's been waiting for me," she said of her husband, Charles J. Shaffer, retired from the Struthers City Street Department.
"It's been a lot of fun. I've loved coming here every day. I had the greatest job ever, but the renovation is a good closing for me," she said, adding, "It's a new time for a new generation to tell their new stories about the YWCA and its people."