Scrappers wildness helps Brooklyn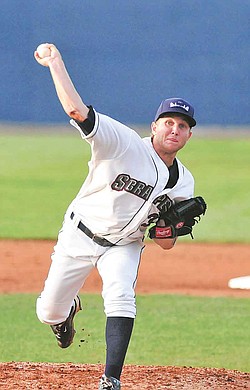 Photo
Scrappers starting pitcher #33 William Roberts makes a pitch to a Brooklyn Cyclone.
By Greg Gulas
NILES
Tied with the Auburn Doubledays for the Pinckney Division lead and holding the advantage over both the Williamsport Crosscutters and Friday's opponent, the Brooklyn Cyclones, the Mahoning Valley Scrappers were hoping to create some distance between those teams with just 22 games remaining in the New York-Penn League season.
They'll have to wait another day to realize any distance.
T.J. Rivera had four hits including a double, scored twice and added a RBI as the Cyclones stopped the Scrappers, 10-6, at Eastwood Field on Friday night.
"We got T.J. about a week ago and he sure can hit. He's done a nice job for us since his arrival," Brooklyn manager Rich Donnelly said.
Cyclones' starting pitcher Carlos Vasquez (3-2) went 51/3 innings to pick up the win while Harold Guerrero (2-3), the second of four Mahoning Valley pitchers, absorbed the loss.
"Carlos is a little guy who gets tired," said Donnelly. "He's picked off eight runners this year, including four in one game and in my 45 years in baseball I have never seen that done.
"He threw well tonight and we needed that because every game from here on out are big for us," Donnelly said.
It didn't take Mahoning Valley (32-23) very long to get on the board.
Bryson Myles led off the Scrappers' first inning with a single up the middle and Tony Wolters added a single on the next pitch. A double steal moved the runners up a base and Jake Lowery followed with a ground out, driving in Myles.
That would be their only lead of the game.
Brooklyn (31-24) knotted the score at 1 in top of the second when Charley Thurber walked to lead off, advanced to second on a Mason Redeke wild pitch and then scored on a double by Cole Frenzel.
Redeke worked the first two innings for the Scrappers, giving up one earned run while walking one and striking out two.
Brooklyn claimed the lead for good in the third inning when Rivera doubled with one out, advanced to third on a fielder's choice error by reliever Harold Guerrero and scored on a wild pitch.
The Cyclones extended their lead to 5-1 in the fifth frame on back-to-back singles by Rivera and Javier Rodriguez with one out, and both scored when Richard Lucas followed with a triple to center.
Lucas then scored on Guerrero's second wild pitch.
Brooklyn made it 6-1 in the sixth inning when Travis Taijeron walked to open the frame, moved to third on Tyler Carpenter's single and scored on a suicide squeeze by Ismael Tijerina.
A two-run double by Alex Lavisky highlighted Mahoning Valley's three run sixth.
The Cyclones came roaring right back in the eighth inning, scoring four more times, twice on wild pitches to stretch their lead to 10-4.
Mahoning Valley pitchers had seven wild pitches in the game.
The Scrappers cut the Brooklyn lead to 10-6 in the eighth inning, scoring on a single by Todd Hankins and a double by Jerrud Sabourin.
The double by Sabourin was the game's ninth extra base hit; four coming off of Scrappers' bats.
All but one extra base hit was a double.
"We gave them some opportunities and they took advantage while we had some opportunities and weren't able to capitalize," said Scrappers manager Dave Wallace.
"On the plus side, Bryson Myles had a nice game. I liked his aggressive play on the bases and he did a Dave Wallace said.