Kitchen's successor on council selected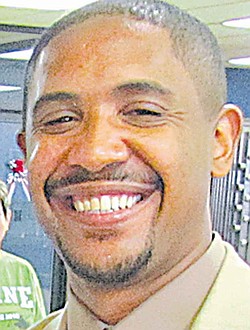 Photo

Photo
T.J. Rodgers wins 2nd Ward position
By Ed Runyan
YOUNGSTOWN
DeMaine Kitchen said his old football teammate at East High School, T.J. Rodgers, was the best candidate to replace him as 2nd Ward councilman.
"I feel that the ward is in good hands," Kitchen said Friday at the Democratic Party Headquarters on Mahoning Avenue where precinct committee members chose Rodgers to fill Kitchen's spot on city council. "He was my candidate."
Rodgers replaces Kitchen on council starting Monday, when Kitchen becomes administrative assistant to Youngstown Mayor Charles Sammarone.
The term expires Dec. 31. But Rodgers also will be the party's candidate for 2nd Ward councilman on the Nov. 8 ballot.
Rodgers was among five people who sought the position, including two who served as 2nd ward council members in the past: Rufus Hudson and the Rev. Charles Ellis.
The other candidates were Cecil Monroe and Mildred Delgado. Rodgers was elected through secret ballots cast by the seven precinct committee members from the 2nd Ward who attended the meeting.
Five of the seven voted for Rodgers, with Hudson and Delgado each receiving one vote.
Rodgers noted in his three-minute speech before the vote that he had never run for political office before and had little political experience.
"But I have passion, and I care about the East Side and the city of Youngstown," he said.
Rodgers talked about his East Side roots and his decision to remain there after graduating from Youngstown State University with a bachelor's degree in computer science and math.
Rodgers, 33, who works for a local software company, said one of his priorities will be crime and jobs, "which go hand in hand."
Another focus will be on assisting the existing block watches and helping to create others.
Other priorities will be removing blight and dilapidated homes and taking steps to prevent illegal dumping, which is an especially large problem on the East Side because of the number of wooded and vacant lots.
"I think people are looking for something new and fresh — some new ideas and building on some of the successes we've had recently," Rodgers said after being selected.
Rodgers said the discussions he had with precinct committee members in advance of the meeting suggested he had a good chance of being selected.
He said he believes the voters believed that he was committed to the East Side because of having lived there his whole life.
"I believe in trying to help the area I grew up in. I think you should help the people who helped you get to where you're at."
Kitchen added, "I feel he'll be vested in what's best for the 2nd Ward. He's the type of person who will be able to collaborate and get things done."
Among the issues raised by the other candidates were the poor condition of McGuffey Mall, encouraging voters in the 2nd Ward to vote, eliminating blight, cleaning up parks and getting "greater responsiveness from [city] department heads."