Austintown business makes move with free family events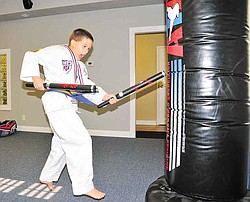 Photo
Tanner Craig, 8, of Austintown gets ready to leap into the air while striking a heavy bag at Austintown ATA Martial Arts.

Photo
Louis Italiano leads a group of students in stretches during Monday's class at Austintown ATA Martial Arts. ATA will host a grand opening at its new location, 420 S. Canfield-Niles Road, from 10 a.m. to 3 p.m. today.
Austintown
A business is celebrating its relocation with some free family fun.
Austintown American Taekwondo Association Martial Arts has its grand opening today from 10 a.m. to 3 p.m. at its new location, 420 S. Canfield-Niles Road. The celebration will introduce residents to the facility and martial arts, plus feature a bounce house, music, food and giveaways.
Fingerprinting for child ID kits and bike safety checks will take place, and a fire engine will be on display from 11 a.m. to 12:30 p.m.
"We've grown as Austintown has grown," said Louis Italiano III, co-owner of Austintown ATA since 2003. "This is just a way to give something back and say thank you."
The schedule of events includes a ribbon cutting ceremony at 10 a.m., cake at noon and board-breaking classes at 11:30 a.m. and 2 p.m.
Kidz N Power, Warrior Fit, self-defense and weapons-training classes are scattered throughout the day.
"The activities will be centered around leadership, exercise, self-defense tactics in age appropriate classes," said Italiano.
He said Kidz in Power classes are designed to give children basic self-defense skills and teach them how to react in "stranger danger" situations The 12:30 p.m. bully prevention seminar is good for kids and parents, he said.
"We want to educate what a bully is, how not to become one and clue parents in on the myths of bullying," said Italiano.
John Grivensky of Beaver Township said he and his wife, Kim, have noticed a big change in their 8-year-old son, JP, since he began martial arts four weeks ago.
"The way he speaks to us is improved," said Grivensky. He greets others "with sir and ma'am; he stands properly."
He said ATA sends report cards home so parents can grade their child's behavior. Italiano also asks to see the student's school report card.
"It's more than just coming here and kicking," said Grivensky. "It's your overall self: mentally and physically."
Grivensky said he chose to have his son attend ATA after he did the building's electrical inspection.
"There's a locker room; it's clean," said Grivensky. "Everybody is respectful."
Omar Tatman of Newton Falls said the new facility offers more room and a place for parents to relax. His daughter, Elizabeth, has been an ATA member for five years and is a second-degree black belt.
"It's really a great improvement," said Tatman, noting parking is much more convenient.
Italiano said when the company moved from its location in the Austintown Plaza, it gained 500 square feet. The new location has a 2,000 square- foot workout area with padded floors, 24-hour video surveillance, sound system and state-of-the-art equipment. Its business hours are Monday-Friday from 4 to 8 p.m. and Saturday 10 a.m. to 2 p.m.