Despite 'new' head coach, Boardman has the same expectations
Team

| Record | Div. | Conf. |
| --- | --- | --- |
| 6/5 | Div. II | All-American Conference Gold Tier |
Boardman Vs Mooney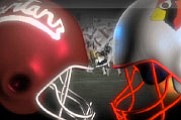 Video
Boardman @ Mooney / YSU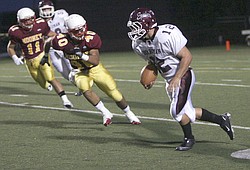 Gallery
Despite 'new' head coach, Boardman has the same expectations
By Joe Scalzo
Boardman
In the final minutes a mid-afternoon practice last week, Boardman coach Mark D'Eramo was running coffin-corner punt drills and was looking to end the session with a punt downed inside the 10.
The final punt went out of bounds near the 10 and D'Eramo yelled out, "I'm lining it up! Keep walking! Where's it at?"
"The 91/2!" someone yelled.
"Woo! Woo! Woo!" D'Eramo yelled, jumping around his players, who responded with a mixture of enthusiasm and amusement.
"Coach D'Eramo is real uptempo," said senior lineman Zach Machuga. "Positive, enthusiastic ..."
"Crazy," added senior QB Ryan Pollifrone, laughing.
After 18 years as a Spartan assistant, including the last seven under D.J. Ogilvie, D'Eramo was elevated to head coach in the offseason after Ogilvie left to become head coach at Lemon Bay in Sarasota, Fla.
The current head coach may be a little louder than the previous one, but the rest of the staff is the same as the Spartans look to survive a typically brutal schedule, and some depth concerns, to make a run at the playoffs.
"Obviously we have high expectations; we always do here," said Machuga, a second team All-Federal League selection last year. "We have a lot of guys returning on both sides of the ball and we feel we can be really successful if we stay healthy."
Boardman returns six starters on each side of the ball from last year's 6-4 team but with just 65 players (including about 50 that attend practice consistently), the roster is thin. Boardman's depth was thinned further when all-district WR Dayne Hammond transferred to Warren Harding earlier this week.
"Depth has been a big concern for us," said D'Eramo, whose comments came before the transfer. "Right now we've got guys going both ways and I guess our job as coaches is to get those people on the bubble helping contribute to our program."
Boardman had about 75 kids last year and close to 85-95 just a decade ago, D'Eramo said. But, as Pollifrone said, "you only need 22."
"Coach Pope [defensive coordinator Mike Popio] always says, 'If it were easy, every guy in school would be doing it,'" said Pollifrone, an honorable mention all-conference quarterback who split time last season with Trae Robinson. "It's a big commitment. We've been lifting since the first week of December, four days a week after school, two or three hours a day. And, of course, doubles [two-a-day practices], which is another eight hours a day.
"It's not an easy thing for anybody to come out and do."
Popio will continue to lead the defense, while D'Eramo and assistant Joe Cleghorn have tweaked the offense to feature less spread and more of a power approach.
"Kind of the old Steel Valley method," D'Eramo said.
Boardman starts the season with games at Cleveland Benedictine and Akron Hoban sandwiched around a Week 2 matchup with Cardinal Mooney. Then the Spartans begin their Federal League schedule with Lake, which went to the Division II state semifinals last fall.
"Some kids might be hesitant to come out because of the new coach, maybe feeling we won't be as successful as we have been," Machuga said. "But the kids we feel we need to be successful are all here, so we'll be all right."