Via Sahara reunites for Vexfest 8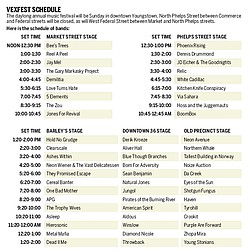 Photo
The daylong annual music festival will be Sunday in downtown Youngstown. North Phelps Street between Commerce and Federal streets will be closed, as will West Federal Street between Market and North Phelps streets.
By GUY D'ASTOLFO
YOUNGSTOWN
Vexfest will be reincarnated for the eighth time this Sunday, with a record 57 musical acts and — as always — free admission.
The downtown festival will expand to five stages this year with the addition of The Old Precinct bar. The other stages will be the same as last year: Barley's, Downtown 36 and two outdoors on West Federal Street.
The event perimeter will be expanded to include the block of North Phelps Street where Old Precinct sits. Festival- goers must enter through gates, where drinkers are given over-21 wristbands.
Reuniting for Vexfest 8 will be Via Sahara, one of Youngstown's top bands for a decade before breaking up in 2008. Via Sahara will usher in the evening with an outdoor set from 7:45 to 8:30 p.m.
Via Sahara called it quits when drummer Matt Colla moved to Fort Myers, Fla., where he still lives. In a phone interview with The Vindicator, Colla explained how the reunion took shape.
"I was in [Youngstown] last year for a wedding," he said. "It was kind of a coincidence, but the whole band met in a bar, and it was the first time we had been together since the last time we were on stage. I brought up the idea of a reunion show, and no one hesitated to say yes."
But finding a place to book the show was proving to be an obstacle, because the bars the band used to play had either closed or morphed into a different scene.
The problem was serendipitously solved when Vexfest organizer Joe Rafidi contacted Via Sahara to see if the band would play at the festival.
In addition to Colla, Via Sahara is Tim McNickle, guitar; Jason Wurst, vocals; Ryan Ubry, guitar; and Joe Kent, bass.
The band played at the first five Vexfests but missed six and seven.
Colla held the door open for future reunion shows, perhaps on a yearly basis. "We'll see how it goes," he said. "I have a feeling everyone will have a great time and get the bug back again."
Via Sahara will rehearse a couple times in the days before Vexfest. "I have a feeling that [the other band members] don't have that much rust because they've all been playing in other projects," said Colla. "After 10 years of playing together, it will all come back."
Colla sits in with a few south Florida bands, while his former mates are involved with Youngstown-area bands.
In its heyday, Via Sahara played sets of two- to three-hours duration. For its 45- minute Vexfest slot, the band will boil down the best songs from its three albums. A song that the band wrote shortly before its breakup — but never recorded — also will make the list.
As he has done in years past, Colla plans to arrive at the start of Vexfest and catch every band.
He has always sensed that Vexfest is unique — and that feeling only has grown stronger since he left town.
"In all my years of playing, [Vexfest] was the most positive thing for local, original music," he said. "There's nothing like it in south Florida. We're lucky to be part of it, lucky that Vexfest feels Via Sahara is still relevant enough to be a part of it."