Southside's Dannie Williams has fight on ESPN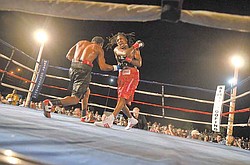 Photo
Dannie Williams, right, follows through on a right hook as his opponent, Oscar Cuero, tries to land a right uppercut during Friday's 10-round lightweight bout outside the Covelli Centre.
Fight details
Matchup: Dannie Williams vs. Antonio Cervantes.
When: Friday at 9 p.m.
Where: Family Arena, St. Charles, Mo.
TV: ESPN2.
By Joe Scalzo
YOUNGSTOWN
After a disappoint ing showing in his last fight, Dannie Williams has a clear strategy Friday night: Don't press. Impress.
Williams (18-1, 14 KOs) will fight on television for the first time when he takes on Mexican lightweight Antonio Cervantes (16-5, 11 KOs) in a 10-round bout at the Family Arena in St. Charles, Mo. — about 30 minutes from his hometown of St. Louis. It's the co-main event on ESPN2's "Friday Night Fights."
"It's a golden opportunity," said Williams' trainer, Jack Loew. "He needs to go in there and shine."
Williams, who now lives in Boardman and trains at the Southside Boxing Club, is coming off a unanimous decision victory over Oscar Cuero on July 1 at the Covelli Centre. Williams injured his right hand in the second round of that bout and came away disappointed in his performance.
"To me, I thought I fought bad," he said. "I was just pressing too much, underestimating [Cuero], not taking my time and waiting for the knockout.
"I didn't take any time off after that fight, just got right back in the gym. I had a lot of improvement to do."
Loew felt Williams spent too much time looking for the knockout against Cuero and too little time boxing.
"I take [some blame] for that; I think I put a lot of pressure on him to look good in front of the hometown crowd," Loew said. "He tried to knock the kid out instead of doing what he does best, which is going out there and boxing.
"He's the type of kid that, whenever he does touch you with a good clean shot, he could knock you out."
Fortunately for Williams, the approach didn't cost him and could serve as a good lesson as his career progresses.
The key, Loew said, is to be patient.
"It's something Kelly [Pavlik] picked up along the way and it's something I'm instilling in Dannie: You have to be patient," Loew said. "Some of Kelly's best knockouts and Dannie's best knockouts come out of the blue. They just happened.
"Those are the best kind."
Because there was little tape available, Cervantes comes into Friday's fight as a bit of a mystery. He's won his last four fights after going through a rough stretch where he lost five out of seven. Three of those losses were by knockout.
"He's a very tough kid and he's coming straight forward," said Loew. "He's only been stopped three times and those were all in step-up fights. He fought very good fighters when he lost those fights."
Williams' bout is Friday's first televised fight and should start a little after 9 p.m. Kermit Cintron will fight Antwone Smith in the main event, a 10-round light middleweight bout.
If Williams wins, Loew expects him to get a fight on Showtime's "Shobox" boxing series.
"I'm excited," said Williams, the 13th-ranked lightweight by the WBC. "I've been waiting to get on TV and this is where it starts. I'm just looking forward to getting on the show, defending my hometown and putting on a show for everybody back in Youngstown and everybody watching nationwide.
"I'm ready. I never fight bad two fights in a row."