Poland softball denied a berth in World Series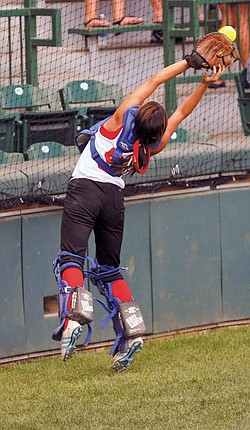 Photo
Jenna Schetler, catcher for the Poland 13-14 Junior League Softball All-Stars, tries for a foul ball in the top of the third inning during the Central Region championship game Wednesday against Michigan at Akron's Firestone Stadium. The Poland team, which represented Ohio, was defeated 3-2.
By Nick Shook
Akron
The reigning Little League softball Central Region champions entered Wednesday afternoon's contest against a familiar foe. However, they didn't encounter a familiar result.
Ohio's representatives, the Poland Little League All-Stars, allowed Michigan's Cros-Lex All-Stars to break a tie late in the game and fell in regional final action, 3-2, at Firestone Stadium.
In 2010, Poland came out on top of the double-elimination tournament after defeating Cros-Lex to take the Central Region title and move on to the Little League World Series. They were looking to do the same on Wednesday, but they were met with stiff competition.
Following a pair of errors on the part of Ohio, Michigan's Megan Guitar and Kylee Barrett scored in the bottom of the first inning to take an early 2-0 lead. Ohio wasn't fazed by Michigan's upstart offense and came back in the top of the second to cut the deficit to one. Kathryn Wilson reached base safely on a fielder's choice and later scored on Arlia Duarte's double to deep center.
"I just told them to stay focused," said Ohio coach Zel Bush. "Try to hit the ball, keep your heads up and fight back."
The score remained the same until the top of the fourth, when Ohio's Aleah Hughes began the rally with a lead-off double. After Chloe Bush walked, Hughes was forced out at third on a fielder's choice, but Kathryn Wilson laid down a perfect bunt in the next at-bat to load the bases for Ohio. Starting pitcher Barrett's walk of Duarte forced Bush home to tie the game.
Michigan threatened to re-take the lead in the fifth after two consecutive hits by Sadi Overland and Guitar put runners on second and third with two outs. Ohio escaped potential danger when Hughes got Barrett to strike out swinging, ending the inning at a 2-2 tie.
But in the sixth Brooke Smith led off with a single. She advanced to second base on a wild pitch, and to third on a flyout. Rachel Schadd's single scored Smith, and Michigan shut down Ohio in the top of the seventh.
Poland's All-Stars won the state championship for the second straight year, and Bush looked back on his favorite memories of the season.
"We lost the first game at state, like we lost here," said Bush, "and we beat Wheelersburg twice to advance ... winning state was great."