East High School senior attends Space Camp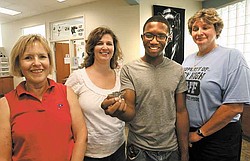 Photo
Steven Russ, 17, a senior at East High School, shows off the wings he got from attending Space Camp in Huntsville, Ala. He's surrounded by East faculty members, from left, Sally Tod Dutton, guidance counselor; Jennifer Walker, English teacher, and Principal Holly Seimetz, whom he calls his angels. The women made Steven's week at the camp a reality.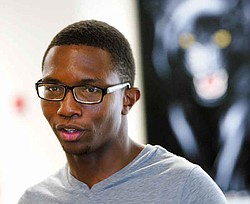 Photo
Steven Russ, 17, a senior at East High School, Youngstown, talks about the week he spent at the U.S. Space and Rocket Center's Space Camp in Huntsville, Ala.
By Denise Dick
Youngstown
Once East High School senior Steven Russ starts talking about the week he spent at Space Camp, it's hard to get him to stop.
Steven, 17, talks about the students he met from all over the world, the space simulations he experienced and the history of the U.S. space program the way many kids his age gush about the latest reality TV show.
He spent last week at U.S. Space & Rocket Center in Huntsville, Ala., a program founded in 1982 to promote the study of math, technology and math. Students spend time in the classroom and in hands-on activities.
"My mother always told me that she wanted me to go to Space Camp, but then, she left me," said Steven, whose mother died last December.
He wasn't sure he'd ever get the chance.
East English teacher Jennifer Walker tapped Steven for a scholarship to Space Camp as part of her award as Ohio's Teacher of the Year for 2009.
"My first memory of Steven was when he in the ninth grade and he used to make the most elaborate paper airplanes," Walker said.
When Walker was able to pick a student to go to Space Camp, she and Sally Tod Dutton, the school guidance counselor, immediately thought of Steven.
That took care of the $1,700 tuition, but Steven, who lives with his brother, still had obstacles to overcome.
"There was a mountain I had to get over to get there," Steven said of his trip.
Dutton paid for Steven's plane ticket and she, Walker and Principal Holly Seimetz helped him complete the paperwork for the camp. Dutton drove him to the airport and Seimetz picked him up.
"These are my angels," Steven said of the women. "I have to think of some way to thank them."
Dutton says seeing Steven's excitement about the camp is thanks enough.
Students experience a liftoff at 4 Gs, act out the roles on a space mission and take a turn in the jet fighter pilot simulator.
The jet fighter pilot simulation was Steven's favorite part of the camp.
Steven has always had an interest in airplanes and still makes those paper versions that his teacher remembers. The Space Camp trip, though, marked his first flight.
It didn't disappoint.
He plans to study airplane mechanics after graduation and then save money to attend Ohio State University.
"It gave a new perspective on school for me," Steven said.