BoomBox is ready to blow your mind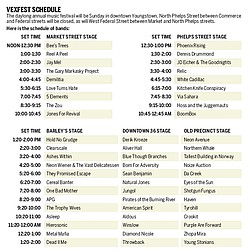 Photo
The daylong annual music festival will be Sunday in downtown Youngstown. North Phelps Street between Commerce and Federal streets will be closed, as will West Federal Street between Market and North Phelps streets.
By John Benson
The term boombox conjures up different thoughts for different folks.
Some think of it as an oversized, '80s relic used to rock out to Bon Jovi's catalog, while for others they believe the oversized, '80s relic was best served kicking out break-dancing jams (we're thinking Run-DMC). Whatever the case, both notions are correct when it comes to modern electro-act BoomBox.
Led by visionaries Russ Randolph (producer, engineer, DJ, drummer) and Zion Rock Godchaux (producer, DJ, vocalist, guitarist), who come from so far south of the Mason-Dixon line it's downright confounding, the electronic duo seems to exist for one goal: to blow your mind one live show at a time.
"We think of ourselves as rock 'n' roll, but I think the greater part of the planet would think of ourselves as an electronic band," said Randolph, calling from his home in Alabama. "We create the songs in the studios, develop them as we go along. And the songs develop as we're playing shows. It's really kind of a conversation with the crowd. We don't have set lists or a plan for the show. We go out, do our thing and hopefully have an in-depth conversation with the crowd where they're getting something from it.
"We're an electronic band, but we write songs. And the songs hopefully have some meaning. You can walk away with the song playing in your head, which I think kind of sets us apart from other electronic acts, where sometimes in this day and age, it just becomes noise. Sometimes when someone mentions electronic music, people will say that's noise meant for drug-crazed kids in the middle of the night. It can be, but we're in it for writing songs that somehow will stand the test of time and be a part of people's lives."
If you view that latter response as somewhat idealistic, there's a decidedly hippie element to BoomBox. Sure, the act strives to attract a granola or Patchouli audience, but more importantly, Godchaux is near royalty in The Grateful Dead world. He's the son of Keith and Donna Godchaux of The Grateful Dead. His dad, who died in 1982, played with Jerry Garcia and company throughout the '70s.
Despite having the shadow of The Dead obligatory talk among journalists (guilty!), Godchaux is focused on making BoomBox live or die on its own.
"I've always embraced my past but not tried to use it," said Godchaux, who also calls Alabama home. "Ultimately, we want to stand on our own two feet. People may have one thing in mind when they come to a show having never seen us before, but what we're doing is our own thing, and we're not trying to ride a coattail."
The current mission of BoomBox, which hopes to release an EP this fall, is spreading its music to new fans. That's why the band is returning to Northeast Ohio for a free Vexfest date along with 56 other groups Sunday in downtown Youngstown. Randolph said previous Ohio shows, including one early gig at Nelson Ledges, has turned the Buckeye State BoomBox friendly.
"We set out to show people who wouldn't like electronic music normally — who just like live bands — just because it's a sequenced beat doesn't mean it's fake by any means," Godchaux said. "That it can move you just as much, and you don't have to throw the baby out with the bath water. Just because it's electronic doesn't mean there isn't soul in it. That's what we're out to prove."