Howland's Dan Moody merges brains with brawn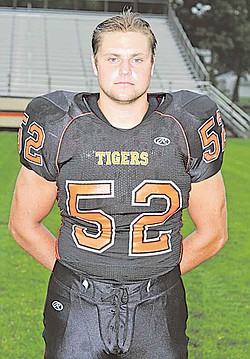 Photo
Dan Moody, Howland DT & center
Staff report
Howland
Dan Moody isn't sure what he'll be doing 10 years from now, but he knows it won't be sweeping floors.
Following a recent afternoon session of conditioning at Howland's Richard Lombardo Stadium, the two-way senior lineman was busy cleaning the floor of the Tigers' locker room with a push broom.
"We've got to put the stools up, sweep and mop the floor and make sure everything looks good," Moody said of the chores that are assigned to four different players each week.
"This is our home for the rest of the season, so we've got to keep it nice," Moody said of the duty that was being shared with Anthony Stanko, Dan Russell and Devion Smith recently.
"We come in here for practice, plus we've got to sleep in here and eat in here, too," said Moody, who, in 10 years, may have his own medical practice.
It's possible for the top-ranked student in Howland's senior class of approximately 270.
Moody, with a 4.0 grade-point-average, has offers from Harvard, Cornell and Butler in Indianapolis.
He visited Harvard this summer and last year, watched a football game at Cornell, where his cousin, former Lakeview standout Ben Moody, plays.
"We'll see how the season plays out and make a decision later in the school year."
Dan Moody, who turns 18 today, will be a third-year starter for the Tigers. The 6-3, 245-pounder returns as a defensive tackle, but his offensive position will switch to center, a position he played as a sophomore.
Moody played one game at center last year when now-graduated Chuck Sayre got hurt.
"I practice at a ton of positions just in case they always need me," Moody said. "I'm ready to fill in wherever."
With Tim Parana gone, juniors Brendan Cope and Eric Lockney are vying for the quarterback spot.
Moody feels comfortable with either.
"They both have a great sense of leadership in the huddle," Moody said. "You can tell they're confident in their position."
On the line, he's surrounded by right tackle Anthony Stanko, Alec Ciferno, Cory Clement and Mike Kalkbrenner. Stanko is committed to Penn State. Ciferno moved from tackle to right guard.
Along with his muscles, Moody's cerebrum is an asset.
"I know not just my position, but I need to know what the guards are doing and what the tackles need to be doing so that, if people are mixed up coming out of the huddle, I could help them out."
Quickness is another strength.
"I've got good footwork for a bigger guy. That's why I can play defense as well as offense."
Although Dan O'Brien's catch of Parana's post route pass was the game-winner in the Harding game last September, Moody considered Howland's offensive attack more run-heavy, yards-wise, in 2010.
"This year we might have some more passing that we're going to be implementing, more spread formations we're putting in, so I think this year will be more balanced in that aspect."
When playing Howland, Moody said, opponents put 9 to 10 players in the box.
"We always have a great, dominating line that gets great push off the ball, so teams usually get ready to put some guys in the box. We've got a horse at running back with Devion [Smith]. We're not going to try to throw the ball 50 yards a game when we have a running back like that."
Defensively, nine of 11 starters return on defense.
"We've got a lot of leadership, play experience and knowledge," Moody said of the unit. "Everyone runs to the ball and everyone moves their feet and gang tackles. That's how we play defense."
The Tigers were 9-1 in 2009 and 10-1 last season.
Although the team philosophy is to play one-week-at-a-time and not look ahead, the big picture is always in the back of their minds.
"We're looking for game 15. We're not looking for games 1-10 anymore. Our goal is game 15."
For starters, however, attention must be paid to the micro-season.
"There are games on the schedule everybody's looking at and saying, 'Hey, that's going to be a great game,' Moody said. "But, right now, it's week one and we're not thinking about anybody but Lakeside."
Ten years from now, Moody might be on the sidelines, maybe as an orthopedic doctor.
"I'd like something where I can stick around the game of football. I'd love to come back in 10 years and be on the sidelines, seeing the Tigers winning some games."