Koval return part of undercard at Cene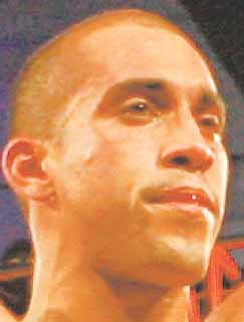 Photo
Boxer Jake Giuriceo of Struthers
By Greg Gulas
STRUTHERS
As Jake Giuriceo prepares for his lightweight clash Saturday with Ramesis Gil at Cene Park, not to be lost in the shuffle are two other key bouts, one of which is the return to the ring of hard-punching heavyweight Chris Koval.
Giuriceo (12-0-1 3 KOs), the main feature, hopes to remain undefeated against Gil (6-2-4, 5 KOs), while the co-main event will pit Miguel "Silky Smooth" Gonzales (18-2, 14 KOs) of Cleveland against Tyrone Harris (24-7, 16 KOs) of Lansing, Mich., in a light welterweight pairing.
Gonzales, 2-0 when fighting in Youngstown, has won his last 12 fights while Harris — at one time 20-3 — has dropped his last two matchups and four of his last seven fights.
"I really enjoying coming to Youngstown," said Gonzalez. "It's a great place for me to showcase my talents and an excellent place for me to fight.
"Tyrone [Harris] is a good boxer who uses tough combinations. He's a southpaw so my plan is to feel him out early. I won't do that too long, however, because I need to be the aggressor and will use my punching power to my advantage."
The seven-bout card will also mark the return of Austintown heavyweight Chris Koval.
Koval (24-7, 18 KOs), gets back into the ring 75 pounds lighter than his last time out, that coming on May 22, 2010 when he suffered a second-round TKO to Travis Kauffman for the vacant WBF Intercontinental heavyweight title.
He's hoping to put an end to four consecutive losses by TKO, having dropped five of his last six bouts after starting out 23-2.
Koval will take on James Porter (5-15-2, KO) of Terre Haute, Ind., for a second time professionally.
"I was cut on the bottom part of my right eye in that first fight and while I want to avenge that loss, more than anything I want to prove that I'm not just another opponent they are bringing in to lose to their hometown fighter," said Porter.
The card will also pair Nicolai Firtha (19-8-1, 8 KOs) of Akron with Ross "The Boss" Thompson (27-15-3, 17 KOs) in the second of three heavyweight clashes.
Firtha, managed by Pat Nelson, heads back into the ring after an eight-month hiatus and a unanimous decision loss to Max Schmeling Halle in Berlin on Dec. 18.
"No question, this will be a difficult fight," said Nelson. "Just two fights ago Thompson scored a 12-round draw versus former champion, Montell Griffin, who is 49-8-1."
The other fights on the card include a light middleweight scrap between Dante Moore (6-0-1, 4 KOs) of Cleveland and Greg Hackett (2-9) of Philadelphia; a light heavyweight battle between Aaron Dufour (2-1, 2 KOs) of Ashtabula and Derrick Evans (1-0, KO) of Utica, N.Y. and the final heavyweight bout of the night between Jason Massie (6-0, 4 KOs) of Cleveland and Mujaheed Moore (4-5, 3 KOs) of Shaker Heights.