Area bus drivers hone their skills during training drill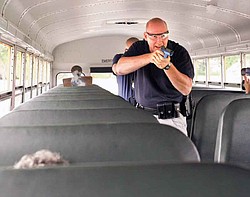 Photo
Austintown Township Patrolmen Alan Phillips and Shawn Heavner, with guns drawn, approach with a gun and knife on a school bus during a mock-crisis drill for bus drivers at Austintown Fitch High School.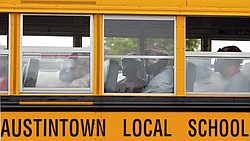 Photo
Wearing protective gear, area bus drivers sit in the bus, during a mock crisis drill at Austintown Fitch High School, waiting to witness what would happen if an intruder got onto the vehicle.
Area bus drivers hone their skills during training drill
Austintown
Drivers posing as students talked animatedly as they sat on a school bus. Within seconds, a member of the Austintown police, acting as a perpetrator, entered.
He shot two passengers with marking cartridges and slashed a third with a rubber knife before other members of the police force got the situation under control.
"I was surprised at how fast something could happen," said 12-year Austintown school-bus driver Barbara Porter.
Area schoolchildren will be in better hands on the bus this year, after more than 300 school transportation professionals from Mahoning, Trumbull and Columbiana counties took part in a "How Would I Handle That Crisis?" mock-crisis drill Tuesday at Austintown Fitch High School. The four-hour annual training exercise included demonstrations of real-life crises, hostage negotiations and bullying prevention.
"Safety is more than just picking students up," said Robert Harmon, consultant from the Ohio Department of Education. "A driver has so many responsibilities."
He said the drills helped drivers hone their skills, learn potential skills to handle an emergency and understand how a tactical response works.
"If danger is imminent, how will police respond?" asked Harmon. "How do you talk to an irate parent or student? How do you talk them down?"
Lt. Ron Deamicis, Austintown Township Police firearm and defensive tactics instructor, said the department doesn't show every tactic it uses to handle an emergency setting but wants to give bus drivers a heads-up to what might go on.
Training participants spent almost an hour at each drill. They not only learned what response to expect from local law enforcement in a crisis, but how to help in one and how to avoid others.
John Elberty, commander of the Mahoning Valley Response Team, said he wanted to give drivers a general overview of what to expect if the team had to arrive on the scene to do a hostage negotiation and what they could do to help.
"You want the driver to engage the person," said Elberty. "The more the person talks, the more likely they will surrender peacefully."
He also suggested that drivers might act covertly to unlock doors or use a cellphone to keep an open line to the outside.
School districts, he said, could implement a code system.
For example, texting "I am almost out of gas," when a driver wants to alert someone that a situation is developing.
Alert a principal, school counselor or police officer is the advice Austintown officer Jeff Toth gave drivers, if they see a student getting bullied.
Drivers "have an essential role in preventing bullying," said Toth.
Drivers "are the first to see the kids in the morning."
He said often the look on a child's face is an indicator of being bullied.
He suggested drivers can separate children on the bus or remove them and encourage them to sit with others if bullying is an issue.
Norm Gallagher, a five-year Austintown Local bus driver, said the program advanced his training.
"Anything could happen," said Gallagher. "You have to prepare for anything."
Colleen Murphy, Austintown schools director of transportation services, said she tries to present new material to drivers each year.
She also asked that parents get their children to the bus stop early and for motorists to be aware of buses, as the new school year starts.