WR Hammond to transfer from Boardman to Harding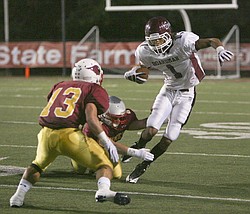 Photo
Dayne Hammond (1) has traded in his Boardman Spartan football uniform for one worn by the Warren Harding Raiders. Hammond, a Division I prospect who earned fi rst team all-conference honors last fall, declined to comment on why he decided to transfer to Harding.
By Joe Scalzo
Last Thursday, following an afternoon practice at Boardman High School, new Spartans head coach Mark D'Eramo was talking about senior wideout Dayne Hammond's growth over the past few months, a maturation that coincided with a three-week missions trip to Africa.
"You just don't come back the same when you see all that," D'Eramo said of Hammond's trip. "That was one of the best things for him as a young man.
"He really developed as a leader."
Whether D'Eramo knew it or not, Hammond's days as a Spartan were numbered.
Hammond (6-6, 185), a Division I prospect who earned first team all-conference and all-district honors last fall, transferred to Warren Harding for reasons that aren't clear.
In an email, Hammond politely declined to answer questions, writing, "I transferred simply for the opportunity of a Warren environment."
On his Facebook page Monday, Hammond had already updated his high school to Warren Harding.
Hammond, whose older brother Chase is a receiver at Wisconsin, has FBS offers from Ball State and Toledo and has also been offered by FCS-member YSU.
D'Eramo did not respond to requests for comment Monday and first-year Harding coach Rick Rios said he didn't want to comment until Hammond actually joined the team.
"I've heard the story but I've yet to see it," Rios wrote in a text message. "To my knowledge they were moving in town today but I have no further comment yet."
According to OHSAA bylaw 4-7-2, exception 1, if a parent or legal guardian makes a "bona-fide legal change of residence from one public school district to another school district," the student will be immediately eligible for athletics at the new school.
More like this from vindy.com
August 9, 2011 12:10 a.m.