Toothman-less, but not toothless: Quakers ready for switch to NBC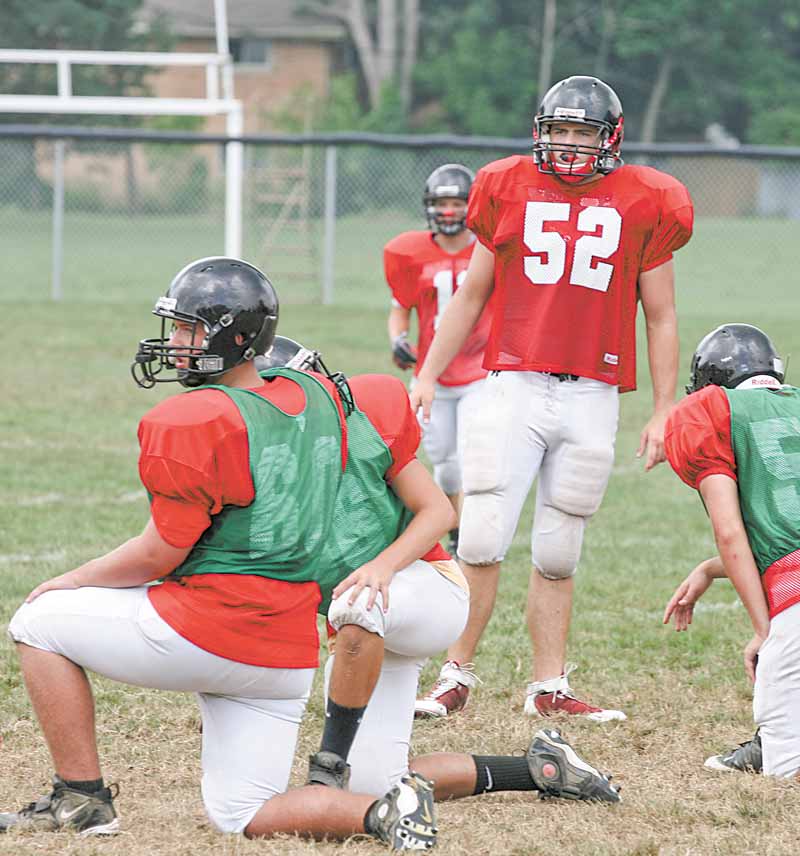 ---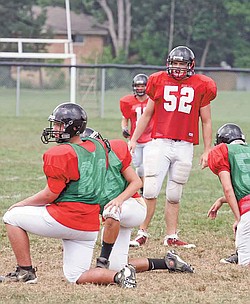 Photo
After losing secondteam All-Ohio quarterback Trent Toothman to graduation, Salem lineman Steve Manypenny (52) says the Quakers feel more comfortable with the running game this season. "We're just trying our best to fill in," the senior said.
By Tom Williams
SALEM
Change is in the air for the Salem High football team.
This fall, the Quakers are joining the Northeastern Buckeye Conference after being initial members of the All-American Conference White Tier.
In Mike Kopachy's first two seasons as head coach, the Quakers relied on the arm and legs of quarterback Trent Toothman who led them to the playoffs in his junior and senior seasons.
Toothman compiled 4,540 passing yards and 2,500 rushing yards in his career as a Quaker. Last fall, Toothman had 87 tackles on defense while rushing for 1,407 yards and 20 touchdowns and passing for 1,588 yards and 12 TDs.
But the second-team All-Ohio Toothman has moved on to Ball State where he will play linebacker.
"You can't replace a guy like that," senior running back/defensive back Austin Noel said. "The pressure is on everyone now, I think. Everybody needs to step up and be a star."
Senior lineman Steve Manypenny agreed.
"We're just trying our best to fill in," Manypenny said. "We feel more comfortable with the run this year."
Kopachy said the Quakers will have a different look.
"We're making a lot of changes because we have different personnel," Kopachy said. "You adapt your scheme to fit your talent and I still think there's a lot of talent left.
"We will continue to run a spread offense [but] we're going to [offer] a different look than teams saw in us last year."
Kopachy has junior Gage Piatt, a transfer student from Beaver Local, behind center. Piatt comes to the Quakers as a bit of a mystery. He sat out last season because of grades.
"He played some defense for them as a freshman," Kopachy said of Piatt's varsity experience.
Manypenny added, "He's real elusive."
Noel, who is 6 feet tall and weighs 155 pounds, said the Quakers' speed will come in handy against bigger teams of the NBC.
"You hear the AAC is all speed and now you've got this supposedly bigger conference," Noel said. "I think our speed will be our best weapon."
Salem's AAC White Tier opponents were Liberty, Lakeview, Hubbard and Struthers. The Quakers' new league has West Branch, Alliance, Canton South, Carrollton, Louisville, Marlington and Minerva.
Noel called Salem's decision to switch "a surprise. We haven't seen a lot of these teams before."
Manypenny (6-2, 210) doesn't mind the change because he'll be reuniting with some former opponents.
"I liked it because we played against [some of] these kids in little league," Manypenny said of teams from Beloit, Canton, Alliance and Minerva.
"Going back to playing them again, I'm real excited for it," Manypenny said. "They are bigger schools so we just want to get after it."
Kopachy, who grew up in Youngstown and played for Chaney, is beginning his ninth season as a head coach. He was head coach at Western Reserve for six years when the Blue Devils were members of the Inter-County League and then the Inter Tri-County League Tier Two.
Now, he's challenged by his fourth league in nine seasons. Kopachy said that when he took the Salem job before the 2009 season that he was unaware that school officials were considering the switch.
"I think they were looking for some stability as far as conference," Kopachy said of the Salem decision. "There was a lot speculation on what was going to happen to the AAC."
Salem is the second of the original 16 teams to drop out of the AAC. Brookfield left the AAC Blue Tier last fall.
Canfield, Poland, Howland, Niles and Beaver Local make up in the AAC Red Tier. The Blue Tier has Champion, LaBrae, Campbell, Girard and Newton Falls.
Kopachy said the biggest test for the Quakers will be facing more league teams.
"Instead of four tough teams, you've got seven," Kopachy said. "So I think in that respect there are no weeks off. You've got to come to play every week."
A Mahoning Valley fan, Kopachy said he'll miss the AAC.
"They are good teams — those were the teams that I grew up playing against and coaching against," Kopachy said. "You miss the familiarity and your own personal rivalry but I'm excited about the new challenges. There's a lot of good teams in this new league.
"Stark County football is well known for its strength so it will be interesting to see how far our program has come and see how we can do against this type of competition."
With the Quakers' high-flying offense likely to be restrained, Noel said he's looking forward to defending.
"I think it's such a momentum gainer if you make a big stop or get a big turnover," Noel said. "I think it's so much more exciting."
Manypenny enjoys the contact.
"I like hitting," Manypenny said. "On the line there is contact all the time."