New Mathews chief discusses priorities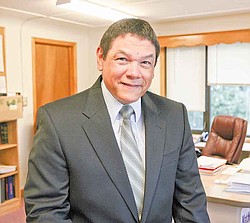 Photo
Lewis Lowery, the new superintendent at Mathews Local Schools, says he hopes to eventually build new schools in that district. He recently was hired to succeed Lee Seiple, who retired.
BY Jordan Cohen
VIENNA
The new superintendent of Mathews Local Schools says that his vision for the district includes eventual construction of new schools.
"How we're going to get that done, I'm not sure yet," said Lewis Lowery, a longtime educator in Mineral Ridge who recently was hired to succeed the retired Lee Seiple.
"The major key in my mind is communication and opening lines to the community so that it understands what we're doing. You need to be there to talk to people."
Lowery, 61, hired at an annual salary of $90,000 for three years, said he knows that district voters have not responded favorably to levy issues.
Voters rejected a $22 million bond issue for new construction in 2009 and twice rejected a 2-mill permanent improvement levy, but a 7.8-mill reduction and replacement levy passed in 2010.
"I have no immediate plans to put a levy on the ballot," Lowery said. "First, we need to lay the groundwork for it, but at some point in time, we'll have to go to the voters because, unfortunately, that's the only avenue we have."
Lowery said financing for new construction is a problem because Mathews has a high per-pupil valuation, a formula used by the state which totals the value of all property in the district and divides it by the number of students.
"What surprised me is that our valuation is $172,000, compared with $112,000 at Mineral Ridge," Lowery said.
"That may limit our building funds because the state may view us as a wealthy district."
Lowery, a Youngstown native and graduate of Youngstown State University, has been an educator for 31 years.
He was principal at Mineral Ridge High School for seven years before coming to Mathews, a district that is similar in size to Weathersfield.
The superintendent, a three-time president of the teachers union when he was at Mineral Ridge, now finds himself on the management side as he negotiates with Mathews nonteaching employees on a new contract.
"I have to look at the broader picture and the impact on the community as a whole," Lowery said.
The superintendent said one of his current priorities is to smooth the transition of seventh- and eighth-graders to the high-school building, a move necessitated by the closing of the 90-year-old Neal Middle School.
He added that students remain his primary focus.
"We're in service to the young people in the district and ultimately we want to do what's best for them," Lowery said.