Second Harvest gives back to volunteers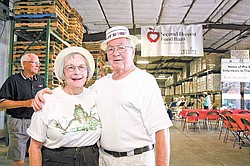 Photo
Betty and Bill Thomas of Hubbard, who recently celebrated their 56th wedding anniversary, have volunteered the past four years at Second Harvest Food Bank of the Mahoning Valley in Youngstown. Second Harvest had a picnic Saturday to honor their volunteers.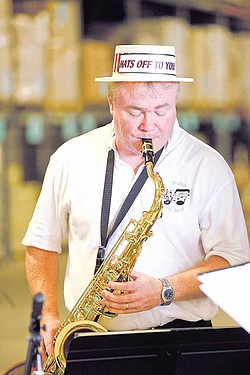 Photo
Jeff Bodkin and his band provided music at a picnic by Second Harvest Food Bank of the Mahoning Valley to honor its volunteers. Bodkin, who also volunteers at the food bank, performed Saturday.
By Sean Barron
YOUNGSTOWN
Donna Hageman knows a few things about being a caretaker.
She is taking care of her husband after he underwent a recent lung transplant.
You also might say the Youngstown woman is doing something to take care of the community.
"I feel it's important and it's a value to me and fulfilling during my retirement years," Hageman said, referring to her volunteer efforts at the Second Harvest Food Bank of the Mahoning Valley.
Giving something back is the main motivator for Hageman to donate her time to the agency once or twice a week, she said.
On Saturday, though, the retired teacher found herself on the receiving end. She was among the volunteers honored for their efforts during Second Harvest's Volunteer Appreciation Day celebration picnic at the food bank, 2805 Salt Springs Road on the city's West Side.
The agency's main thrust is to solicit, store and distribute food to hunger-relief organizations that provide food to people in need in Mahoning, Trumbull and Columbiana counties while providing education and advocacy, its mission statement says.
Hageman, who taught 33 years, recalled having brought her eighth-grade Volney Rogers Junior High School National Junior Honor Society students to Second Harvest, where they sorted food. The eighth-graders came once a month as part of their community-service work, said Hageman, whose volunteer duties include compiling newspaper articles for the agency's media book, as well as helping with annual food drives.
In addition, Hageman said, her church hosts a monthly food giveaway to those in its ZIP code who are in need.
Community service also is high on the priority list for Bill and Betty Thomas of Hubbard, who volunteer each Monday between November and May.
"We love it here. It's like our home away from home during the wintertime," said Betty, a retired bank officer.
The Thomases, who recently celebrated their 56th wedding anniversary, spend much of the summer looking after rental properties they own. They also need the time to tend to their own acre, she continued.
While at Second Harvest, the couple typically sorts frozen meat and places categorized groceries into boxes. They also make sure the items are clean and that canned goods are free of large dents, explained Bill, who worked 30 years as a machinist for Commercial Intertech.
Volunteering when needed and educating others about the local hunger problem are important to John and Mary Jo McBride of Austintown, who started at Second Harvest more than three years ago.
"I was overwhelmed by how big a problem hunger is in the Valley," John said.
John McBride, who works in industrial sales for Youngstown-based Trumbull Industries, said he organized groups from two Boardman churches to volunteer. What began as a gathering of five people turned into about 30 from both churches, he added.
John said he tries to follow the example of Jesus Christ with respect to helping the poor, adding that he also tries to educate people about Second Harvest.
Last year, the estimated 1,425 volunteers logged 16,396 hours for the agency, noted Rita Brady, volunteer coordinator.
The main job of volunteers, most of whom work from 9 a.m. to noon, is to get food ready for distribution to local agencies and pantries, Brady explained. Other duties include office work, answering phones and helping with special events, she said, adding that about 8.3 million pounds of food were distributed to the three counties in 2010.
Providing the entertainment at the gathering was the Bodkin Big Band, led by Jeff Bodkin, a Second Harvest volunteer.