Pavlik moves on, no regrets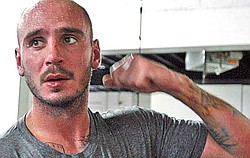 Photo
Boxer Kelly Pavlik works out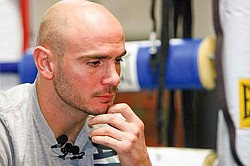 Photo
Kelly Pavlik has withdrawn from his scheduled fight vs. Darryl Cunningham on Saturday night at the Covelli Centre and told his promotional company, Top Rank, that he will not fight Lucian Bute in November.
By Joe Scalzo
YOUNGSTOWN
Despite receiving widespread criticism over the past five days, Kelly Pavlik said he doesn't regret his decision to cancel his super middleweight bout with Darryl Cunningham.
"The only thing I feel bad about is how it went down," said Pavlik, who was scheduled to fight Cunningham on Saturday night at the Covelli Centre before canceling Tuesday. "I feel bad that it was a week out. But I had to make a decision. I had to put my foot down.
"Hopefully the message got through, and if it didn't, oh well. I won't fight no more."
Pavlik opted to cancel after finding out he was due to make $50,000 for the Cunningham bout — more than $200,000 less than he received for defeating Alfonso Lopez in May on the undercard of the Manny Pacquiao bout. It was also far less than he received for fighting Gary Lockett ($2.5 million), Bernard Hopkins ($3 million). It was also far less than he made against Marco Antonio Rubio ($1 million) — his only other fight at the Covelli Centre.
Pavlik also was unhappy about being offered $1.35 million to fight IBF super middleweight champion Lucian Bute in November, believing he deserved more for a title bout in Bute's hometown of Montreal.
Pavlik's promotion company, Top Rank, countered by saying he was receiving 82 percent of the company's cut from the Bute bout — with a chance to make more, if the gate was bigger than expected — and that $50,000 was the best they could do for a Youngstown fight on Showtime's "Shobox" boxing program. (HBO broadcast the Lockett and Hopkins fights and Top Rank Pay-Per-View handled the Rubio bout.)
Top Rank added that Pavlik was the one who requested the hometown tune-up fight, and they thought they had an agreement with his co-manager, Cameron Dunkin, on both the Cunningham and Bute bouts.
That explanation didn't satisfy Pavlik.
"I didn't want to cancel the fight, and I feel bad for the people in Youngstown, but everybody stands to get their money back," he said. "I'm the only one who stands to lose money."
Pavlik said he didn't find out about the $50,000 purse until a week and a half before the bout, something he blamed on miscommunication between himself and his management team.
"I'll take the blame; I should be more involved in my career than what I am," he said. "I'm not downplaying $50,000 because I know that's a lot of money in Youngstown, but I don't have an easy job. I get punched in the head for a living.
"I have two babies at home. I've got to be able to count and spell. If I lost the fight to Lopez, OK, I understand that [amount]. But I didn't lose. I won."
Pavlik compared it to someone in Youngstown being asked to take a $20,000 pay cut.
"People here are hard-working people, and I sure as hell don't want to punch a time clock or go paint walls or fix a roof," he said. "But I get punched in the face for a living."
In interviews, Pavlik has made it clear he still views himself as one of boxing's biggest names, often citing his wins over Jermain Taylor and Edison Miranda. Others, however, point out that he has won just three bouts in the last three years (against Rubio, Miguel Espino and Lopez), lost two others (to Hopkins and Sergio Martinez), canceled four bouts due to injury and spent two stints in rehab.
"I'm not trying to be a cocky person, but the name Kelly Pavlik still carries a lot of weight," he said. "No matter what I do, Kelly Pavlik can still draw."
But Pavlik's latest cancelation may have significantly soured his relationship with the two top boxing networks, Showtime and HBO. Pavlik said he understands that, but repeated that he's not going to fight for what he considers an unfair wage.
"If I'm not paid respectably, I won't fight," Pavlik said. "I won't care.
"If I have to be the bad guy, oh well. I don't have to fight anymore."
That said, Pavlik repeatedly said he does still want to fight.
"I still have it; I still want to fight," he said. "But it has to be on my terms. I'm not asking for [Floyd] Mayweather money or [Manny] Pacquiao money.
"I'm not asking for millions upon millions. I'm just asking for my fair share."
More like this from vindy.com