Happy 95th birthday | Lorenzo DeSantis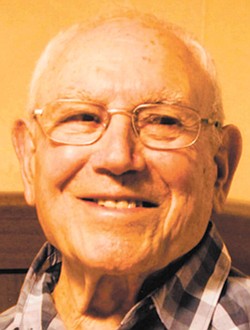 Photo
Address: Youngstown.
Date of Birth: Aug. 10, 1916.
Location: Pacentro, Italy. Came to America in 1947.
Spouse: The late Velia. Married Jan. 26, 1939.
Children: John and Shirley DeSantis of Surfside Beach, S.C.; Frank and Shelly DeSantis of Fairlawn, Ohio; Florence and Paul Harkey of Canfield.
Grandchildren: Nine.
Great-grandchildren: 12.
Parents: Giuseppe and Maria Gaetana DeSantis.
Siblings: Brothers Quintino and the late Frank DeSantis, and sisters Flora DiMascio and Mary Carano.
Work: Was millwright for LTV Steel 30 years .
Military: Paratrooper in the Italian Army during WWII.
Church: Member of St. Dominic Church.
Memberships: Former member of Pacentrano Club.
Celebration: Aug. 6 at St. Michael's Family Life Center in Canfield.