Anxiety mounts for vet's family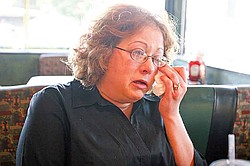 Photo
Colleen Village talks about her husband, Mike, a Gulf War veteran who is in a coma. Colleen and her three sons are being kicked out of the home they rent. Workers at GM Lordstown will collect money at the gate during each shift on Wednesday to help the family.
4 face specter of homelessness
By Elise Franco
Austintown
In just four days, Colleen Village and her three sons may lose the last bit of normalcy in their already arduous lives.
While Village's husband, Michael, lies in a coma at Cleveland Clinic, she and their boys — age 15, 11 and 8 — are about to become homeless.
Michael Village, 42, a Gulf War veteran, was diagnosed in 2001 with Hodgkin's disease, his wife said. He has had two heart attacks, congestive heart and kidney failure and has had many emergency surgeries since early May.
The Vindicator first reported Village's story in the May 30 article "Wars take toll on Valley families." In that piece, Village, 35, of Austintown, described her husband's condition and said he was put into an induced coma May 3.
She said his condition has worsened over the course of the past two months.
Doctors have since removed the medication to induce, but he remains in a coma and was moved Thursday to the Cleveland Clinic for more intensive care after his bowel ruptured. Village said she has no idea if he will wake up.
"Because of how long he's been in the hospital, we've had some bad financial situations," she said. "As of Aug. 10, we're homeless."
Village said she and her sons moved to a duplex in Austintown in January because Michael was unable to go up and down the steps of their former home.
She said she was on a month-to-month lease until her landlord died. The man who assumed responsibility for the property opted to discontinue the arrangement.
"He took me to court, and the magistrate said because the lease was monthly, I had no protection," she said. "He gave me two weeks to get out."
Because Village had to quit her job three years ago to care for her husband, the only income the family has is his disability and pension, totaling about $1,200 per month.
Village said an Austintown apartment complex agreed to reserve an apartment for a few days to give her time to come up with the $2,000 she needs to move in.
"At one point in my life, $2,000 was nothing to me," she said.
Jim Graham, president of United Auto Workers Local 1112, said workers will collect money at the gate during each shift Wednesday to help the family.
"We do various collections like this throughout the year," Graham said. "The amount we raise varies. It could be anywhere from $1,500 to $4,000."
Village is honest about the toll these hardships have taken on herself and children. She said she isn't afraid to show emotion and cries every day and most nights.
"Every day I go to the hospital, I feel like I'm attending his calling hours," she said. "My husband is my best friend, and I know if he knew our situation he'd blame himself even though it's not his fault."
Melinda Boyce of Canfield said she's known the family for about 10 years and is heartbroken for them.
"To see where Michael is now, and what he's been reduced to, it's almost too much to comprehend," she said. "I think having served our country and putting his life on the line, his family should be treated with more dignity and respect than what they are."
Boyce said she hopes someone will be able to help the family afford a new place to live.
"I'm not really in the financial situation to do it myself, or I would," she said. "At this point I think any help would be welcomed and appreciated."
Village said that if she's not able to come up with the money soon, her family will have to split up until she gets back on her feet.
She said several family members offered to take in her sons, but none of them can accommodate the four-person family, leaving her with no place to go.
"My oldest will go stay with my sister is Pittsburgh for a few weeks, and my 11-year-old is going to stay with my mother-in-law," she said. "I don't know what I'll do."
Now more than ever, Village said she's most concerned with her sons, who began attending counseling to help them cope with the hardships they've been facing.
"I feel like I'm robbing my kids of their innocence because of this," she said. "They're angry. ... They know I'm worried, and they feed off of how I feel."