State budget woes impact local park districts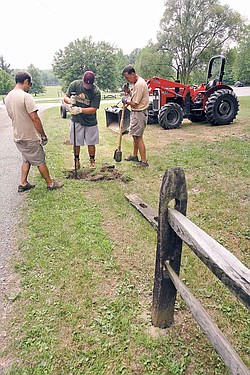 The Vindicator ( Youngstown)

Photo
Gabe Manginelli, left, Chris D'Apolito and Jim Feret, Boardman Township Park grounds-crew workers, begin replacing fencing in the park. The park received about $71,000 from the state Local Government Fund this year.
YOUNGSTOWN
As municipali- ties and townships are dealing with cuts in the Local Government Fund from the state, so are area park districts.
"They're taking the same hit as everybody else. I'm not aware of any legislating that exempts them," said Anthony Magnetta, budget analyst in the Mahoning County Auditor's office. The county auditor's office distributes the Local Government Fund from the state.
Magnetta said Mill Creek MetroParks got $577,435 in 2011 from the fund and likely will receive $402,177 in 2012 — a loss of more than $175,000.
That amount is actually less than the district's projection of a $210,000 reduction, said Dave Christy, the MetroParks' administrative director and treasurer.
The 2011 general-fund budget for the MetroParks is about $11,800,000 that is primarily generated through a 1.75-mill operating levy, he said.
Christy said he isn't sure how the loss would affect operations throughout the MetroParks. Using the 2011 figures, $175,000 is only about 1.5 percent of the district's total budget.
Elsewhere in Mahoning County, Boardman Township Park received about $71,000 from the fund in 2011 and is expected to receive about $49,000 in 2012, Magnetta said.
The Local Government Fund made up about 4 percent of Boardman Park's $1.73 million budget in 2011, said Executive Director Daniel N. Slagle Jr.
The loss in state funding might not seem like much, but it will have an effect on the park's long-term goals, Slagle said.
"Our focus now is maintenance," Slagle said.
He said progress on the district's five-year capital improvement and equipment plan will slow because of the reduction. The most recent project from that plan was the North Trail, a mile-long trail that runs along the park's Main Drive, completed a year ago. The trail was funded in part by grant money, like nearly all of the park's capital improvements, Slagle said.
Most of the park's 2011 revenue — about 57 percent — was generated by property taxes.
"We've had the same two operating levies for 31 years," Slagle said. "A lot of people don't realize that the township and park are separate political subdivisions."
In Trumbull County, Mike Wilson, the Trumbull County MetroParks Board chairman, said he is not expecting any effect from Local Government Fund reductions.
"We get funding from the county commissioners, so we're not expecting to lose anything," Wilson said.
He said a funding cut of any size could stall current and ongoing projects.
"We're in the midst of building pavilions and boat ramps," Wilson said. "If we would lose any funding, those types of projects would be affected."