Bert Sugar: Pavlik's image has been hurt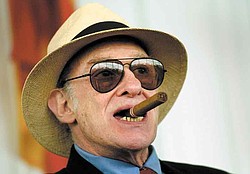 Photo
Boxing Hall of Fame member Bert Sugar wonders if Kelly Pavlik has lost the desire to pay the price outside the ring in order to excel inside of it.
By Joe Scalzo
Before Bert Sugar became a legendary boxing historian, he was a not-so-legendary amateur fighter, waking up at 5 a.m. for 5-mile runs, counting beer cans along the side of the road, wondering whether the pain outside the ring was worth the pain inside of it
"There comes a time when you just figure, 'Enough's enough,'" he said. "Fighting is still not the most pleasant way to earn a living.
"It's fun, but it's not pleasant."
Sugar, 74, is working on a book about working in the advertising business in the "Mad Men" 1960s but this week he's also kept his eye on the ongoing Kelly Pavlik saga. While he's reluctant to "play psychiatrist without a license," he wonders whether Pavlik has lost the desire to pay the price outside the ring in order to excel inside of it.
"Many athletes ... say, 'I climbed the mountain — to hell with it, I'm going home,'" Sugar said, speaking by phone this week from his home in New York. "He's fought since he's a kid and has spent half his life in the ring."
Pavlik made headlines this week, both for canceling Saturday's bout with Darryl Cunningham at the Covelli Centre and pulling out of a planned November bout with IBF super middleweight champion Lucian Bute. The reason for the cancellations, Pavlik said, was his unwillingness to fight Cunningham for $50,000 and Bute for $1.35 million.
Those cancellations, along with previous cancellations against three other fighters, have hurt his image in the sport, Sugar said.
"It becomes a wariness after awhile, doesn't it?" Sugar said.
Pavlik's saga is certainly not new to boxing, or sports in general, and Sugar believes he will one day regret his decisions.
"Not immediately but all of us do [live with regrets]," he said. "He'll look back and say he could've, would've, should've done something different.
"But Kelly, look, he's not had a silver spoon in his mouth. His life has been hard and he might just want to reflect on the lulls and kick up his shoes and say, 'That's it.' Some can do that."
Others can't. Sugar said Sugar Ray Leonard came back because he missed the spotlight.
"When you hear people chanting your name, it's sort of an opiate," Sugar said.
If Pavlik's career peaked with his wins over Jermain Taylor in 2007-08 — and considering the arc of his career over the last 31/2 years, there's reason to believe it has — Sugar believes Pavlik will be remembered as a good, but not great, fighter. He said a fighter is measured, in part, by who he beats. Sugar Ray Robinson, for instance, beat 23 former, present and future champions. Pavlik has faced three champions and lost to two of them.
"He might be the answer to a trivia question: Who was the last white middleweight champion?" Sugar said. "How do I rate him? As not in the 20 middleweight champions of all time.
"He'll be remembered as one of the most exciting fighters of the last 20 years. But 'The Ghost' looks like he's about to become a ghost."
More like this from vindy.com