Scrappers shutout Yankees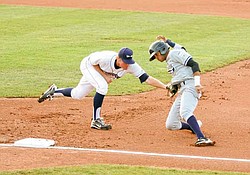 Photo
Mason Williams, can't avoid the tag of Mahoning Valley Scrappers first baseman Jerrud Sabourin during Thursday's game at Eastwood Field. The Scrappers won 4-0.
By Tom Williams
NILES
For five innings at Eastwood Field on Thursday, Scrappers starter Will Roberts and Staten Island's Bryan Mitchell put on a pitching clinic.
Both faced the minimum amount of batters (15), allowed one hit and were supported by solid defense.
But in the sixth inning, Roberts' dominance continued as Mitchell's luck ran out. After the Scrappers' Evan Frazer drew a one-out walk, John Barr's hit deflected off Yankees first baseman Reymond Nunez's glove for a double.
Then on Mitchell's final pitch, Cody Elliott hit a 2-2 offering over the left-field wall to power the Scrappers to a 4-0 victory.
Elliott's three-run homer came one pitch after Mitchell tricked him with a slider.
"All day, I wasn't seeing the slider well," said Elliott after his first career homer. "So I was just telling myself to stay off the slider. He gave me an elevated fastball and I was able to put a good swing on it."
Roberts, the Cleveland Indians' fifth-round draft pick in June, earned his first victory against the New York-Penn League's best team.
In his six innings, Roberts faced 18 batters, allowing one hit — Mason Williams' lead-off single in the first inning. He struck out four batters and retired 10 on groundball outs. Williams was erased trying to steal.
"It was impressive what he did tonight," Scrappers manager Dave Wallace said. "He established his fastball on both sides of the plate down in the zone.
"And he was able to throw his off-speed [pitches] for strikes as well."
Since signing in early July, Roberts' outings have improved. Last Saturday, he threw five shutout innings against the Aberdeen Ironbirds.
The University of Virginia pitcher said his strong effort was unexpected.
"I felt awful in the bullpen," said Roberts of his warm-up. "With my off-speed stuff, I was hardly throwing anything for strikes."
Roberts began the game relying on his fastball.
"After that, I got my slider working. I threw some quality curveballs.
"I was able to keep them off-balance and they were swinging early in the count," Roberts said. "They're pretty aggressive so that kept my pitch count low and I felt pretty good for all six innings."
The win keeps the Scrappers (28-19) ahead of the Auburn Doubledays in the Pinckney Division. The Scrappers and Doubledays will play four-game home-and-home series beginning at Eastwood Field tonight.
The Yankees (33-13), leaders of the McNamara Division, dropped a consecutive game for only the second time this season.